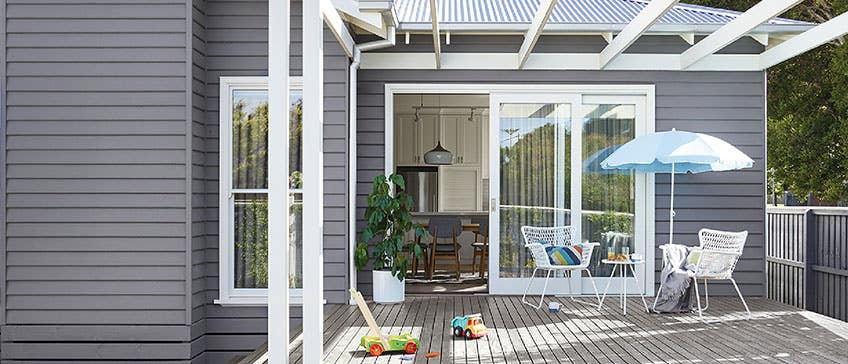 Choose your Paint
Semi-gloss and Gloss acrylic paints are commonly used for weatherboard homes, while low sheen acrylic paints are popular on brick, cement render and concrete surfaces. Generally, enamel paints are preferred wherever a tough, hard-wearing, 'easy-to-wipe clean' surface is required. They take a little extra time to apply but can be well worth the trouble for doors, door frames; windows and other high wear areas.
Preparation
All peeling paint must be scraped or wire brushed away, then primed. Use a heat gun to soften the old paint, so it's easy to scrape off with a stripping knife or scraper. Use a chemical stripper around windows as a heat stripper may crack the glass.
Fill cracks and holes
Use exterior filler for brick and concrete, and a flexible filler for timber. Sand the filler level with the surface.
Sanding
Thoroughly sand the whole area to be painted to clear any uneven spots and give the new paint a slightly roughened surface it can stick to, especially if the existing paint is gloss enamel.
Cleaning
Use a sugar soap to remove all grease, dirt and dust.
When to paint
Outside painting should only be done in temperatures between 10°C and 40°C. In summer, the best way is to follow the sun around your home and paint only on the shady side. A good tip for painting in summer is not to paint in direct sunlight or onto a hot surface. Try to follow the shade where possible.
Paint Application
Use a roller if possible on flat surfaces as paint will go on five times faster than with a brush. Always work from the unpainted area back into the painted area, maintaining a wet edge to avoid lap marks. For windows, start by cutting in around the glass with a small brush, then use a larger brush for the surrounding frame. Use masking tape along the glass edge to give a clean finish. Weatherboards are painted in two stages. Paint the underside of the board first then paint the face. Paint several boards at a time then move your ladder over and continue along the rest of the wall