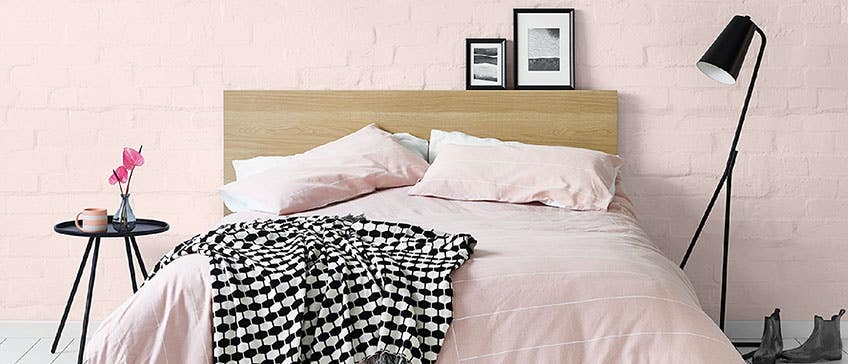 A fresh coat of paint will transform any room, and the satisfaction you will get from doing the job yourself lasts long after the paint has dried. But before you start painting on walls and ceilings here is some advice and a few tips to help you get the job done properly, and with a minimum amount of mess.
WHICH PAINT, WHERE?
Water-based paints are popular for most walls and ceilings. They're easy to apply, are touch dry in 20 to 30 minutes, can usually be re-applied in two hours and you can clean up in water. Generally, water-based enamel and oil-based enamel paint provide the toughest, hard wearing surface for areas needing constant cleaning, such as doors, windows and trim. With the advances in technology, water based enamels are now replacing the traditional oil-based paint enamels.
Flat or low sheen acrylic or vinyls are commonly used for more formal, less frequented areas like dining rooms, bedrooms and lounge rooms where the matt finish suits the atmosphere.
A semi-gloss acrylic is ideal in high traffic areas such as kitchens, family rooms, or children's rooms where the need for frequent cleaning may occur.
For ceilings Ceiling Whites are highly recommended as they are ultra flat in sheen and mask surface imperfections.
Use Kitchen & Bathroom paint to prevent mould in wet areas like kitchens, laundries and bathrooms.
PREPARATION
As in all things, preparation is critical in ensuring a fine finish. Following these tips will help you achieve the quality paint job you are after. Scrape away flakes and blisters, check the surface and fill any cracks with interior filler and then use sandpaper to sand to a smooth finish. Where movement is likely to occur, in places like the joins between architraves and walls, use a flexible filler such as Accent Gap Filler. Finally dust & wash down with sugar soap to remove all dirt and dust.
PAINTING APPLICATION
Masking
Apply the masking tape along edges where you don't want paint. For the best result, use a quality masking tape when masking up as cheap tapes rip easily and allow paint to bleed through the edges. Mix the paint thoroughly. Use a paint stirrer and stir from the bottom upwards (not just around) until all the paint is quite smooth and the colour is even.
When to paint
The wall temperature must be above 10C throughout the painting process, you should generally avoid painting in extremely hot or cold conditions.
PAINTING SEQUENCE
Start with the ceiling
Cutting in the edges (leaving a fine edge) around the scotia (the mouldings which cover the line where the wall and ceiling join) with a brush. Fill in the main area with a roller working in narrow strips so you can clearly see where you have stopped and started.
Next, the walls
Start in the corner, cutting into wall edges, window and door frames. Fill the main areas using a roller, working along the wall evenly in an up and down motion. This helps you see more easily where you have stopped and started. Around windows, paint along the top band and repeat at the bottom.
Finally paint the door, windows & trim