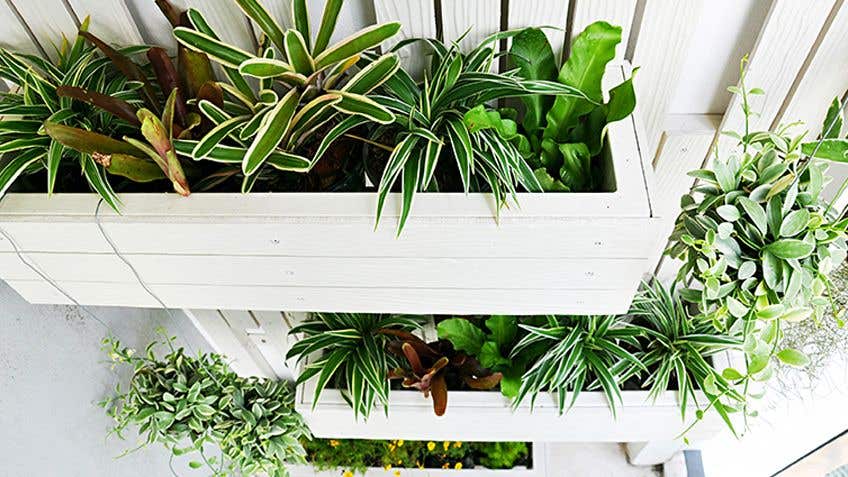 There are many types of vertical wall gardens to choose, from purpose built pots and stands to re-using an old pallet or guttering. Vertical gardens can add a flourishing, living garden to even the smallest of outdoor areas.
Today we are going to focus on creating a gutter vertical garden. You can choose any flowering plant or herb you like with this method.
STEP 1: ENVIRONMENTAL CONSIDERATIONS
Glue the gutter ends to the gutter with the PVC glue. Drill a few drainage holes in the bottom of the gutter. Depending on the colour of guttering that you want, you can chose to paint the gutter at this stage. Make sure you use a weatherproof paint, drop into your local Mitre 10 for advice on colours and the best paint to choose.
STEP 2: MOUNT THE GUTTERING
Firstly check that the fence or wall that you have chosen has the weight capacity to hold the guttering. Measure the length of the guttering and transfer this measurement to the wall for the placement of the brackets. Mark the drill locations with a pencil and use a spirit level to ensure the line is straight. Drill in your brackets and mount your guttering to the brackets.
STEP 3: PLANTING
Fill the guttering about ¾ of the way with potting mix and make sure it's evenly spread. Plant your plants and make sure the roots are dug well into the potting mix. You can space the plants as close or far apart as you like. Give them a good watering until the water is dripping through the drainage holes.
STEP 4: ENJOY YOUR VERTICAL GARDEN
And that is your vertical garden complete! Don't forget to regularly water and care for your plants to ensure you have a lush wall garden.