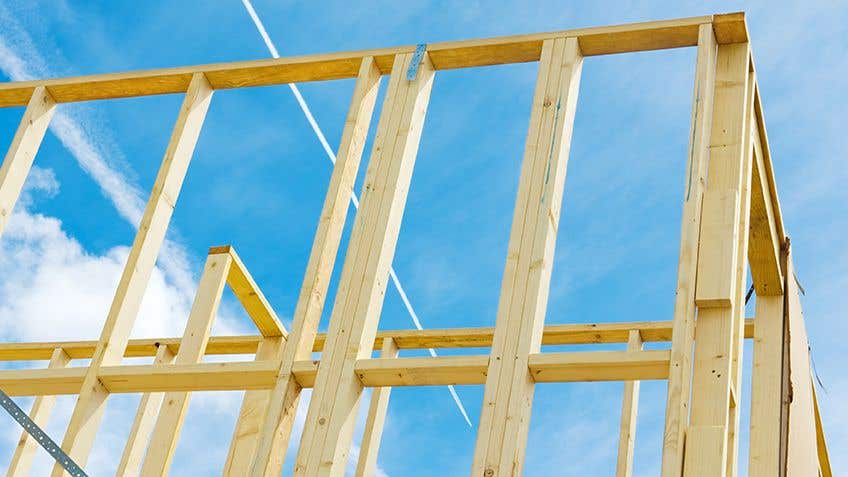 Building a stud wall can be a tough task and it's very easy for something to go wrong. Scott Cam shows you how to build the perfect stud wall, step by step.
Project Checklist
Tools
90 x 45mm F5 pine
75mm bullethead nails
Gyprock clouts
10mm CSR plasterboard
Stud adhesive
Plaster filler
Spatula
Sandpaper
Wattyl Aqua Prep undercoat sealer
Wattyl flat acrylic paint
Step 1: Start with the 4 components
First off, it is essential to make sure the cuts are square. So using a square and a pencil, place a line on the top and sides and saw on the lines.
There are 4 main components to a stud wall: the top plate, bottom plate, stud and noggin. Mark the top and bottom plate for the stud positions by laying the plates together and marking at the same time. This helps when putting the wall together, as it will be perfectly aligned. To make things easy, start the nails on the top and bottom plate and hammer them all the way through before you tack them onto the studs.
Step 2: Tack Together
Find level ground and lay the top plate, bottom plate and studs and tack it all together. The final pieces are the noggins and they are the pieces of wood that go through the middle to give the frame support.
Handy tip- measure the noggins from the top or bottom plates, make sure not to measure from the middle.
Step 3: Plasterboard
Use 10mm CSR plasterboard as it already has recessed edges and is easy to nail and cut. Since we are building a nib wall, the recess on the plasterboard needs to be removed. Mark a line about 100mm in from the edge, run a Stanley knife along the line and cut it off.
Step 4: Fastening gyprock
When fastening gyprock to a stud frame, use a stud adhesive glue and apply where you are going to nail. Once applied, place the plasterboard on top of the frame.
The next step is to nail gyprock to the frame using plasterboard clouts and make sure to nail them all the way through, as you will be putting plaster on top to cover them.
Step 5: Painting
Before painting, fill up the holes by using plaster and a spatula, and remove the excess filler. Once dry, sand to ensure the surface over the filler is smooth. Make sure you dust off all the excess sanding material left on the board, and now you are ready to paint. The first coat should be an undercoat sealer, followed by your interior matt top coat.