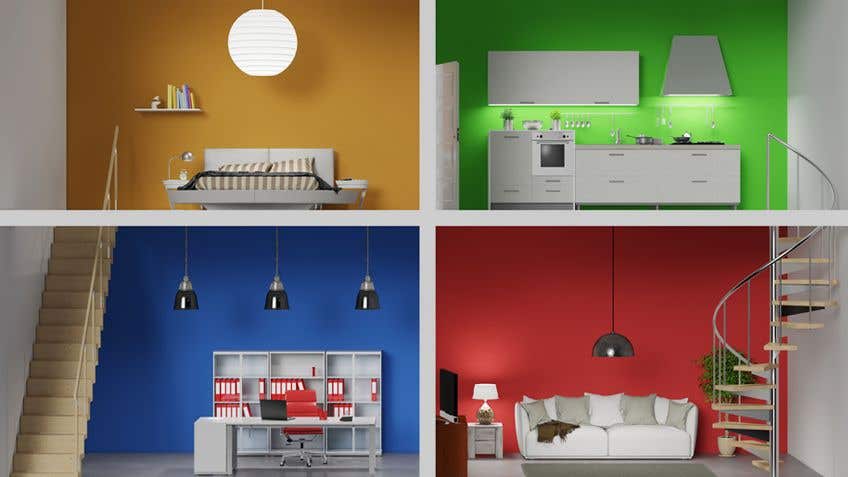 Get Inspired
Color can help you create the exact mood for your home. Choosing the right color is a daunting task with so many available. The easiest way to start is to find some inspiration from the accent® Interior and Exterior Colour Guides, homemaker magazines, TV programs, holiday destinations or from the homes of your friends and family.
Some helpful colour tips
To make your room appear more spacious, choose cool colours, but if you want to make a large room snug, warm colors will do the trick. The color pallet of reds, oranges and yellows traditionally create the feeling of warmth. So if you want to cozy up a big space, think warm. Cooler colors in shades of blues or greens on the other hand will give a fresh, clean feeling to your space …and open it up! For a more calming and serene environment, select whites and neutrals or lighter shades of color.
Select Palette Colours
Once you are inspired, select a range of palette cards from the accent® colour wall. The palette cards are displayed in colour groups making it easier to find your perfect colour. The scheming suggestions on the back of the palette cards will assist when selecting your colours.
Trial your colour
As colours can vary in artificial light, you should check your choices at home against existing furnishings and in different lighting conditions.
Test your colour scheme
Nothing beats giving colour schemes a real test run. After experimenting with your palettes, confirm your colour choice with an accent sample pot. Sample pots allow you to see how the colours really look in your home day or night.
Accent Virtual Painter app
Don't want to use sample pots? The MITRE 10 accent® Virtual Painter APP helps you visualize how your room will look without picking up a paint brush. Use one of the provided images or download your own photo. Mitre 10 have a range of over 400 colors for you to play with. Simply select your favorite colors from the palette cards, use your finger to paint specific areas or details. Once you find the perfect shade, save the image to your Camera Roll or even Share on Facebook.