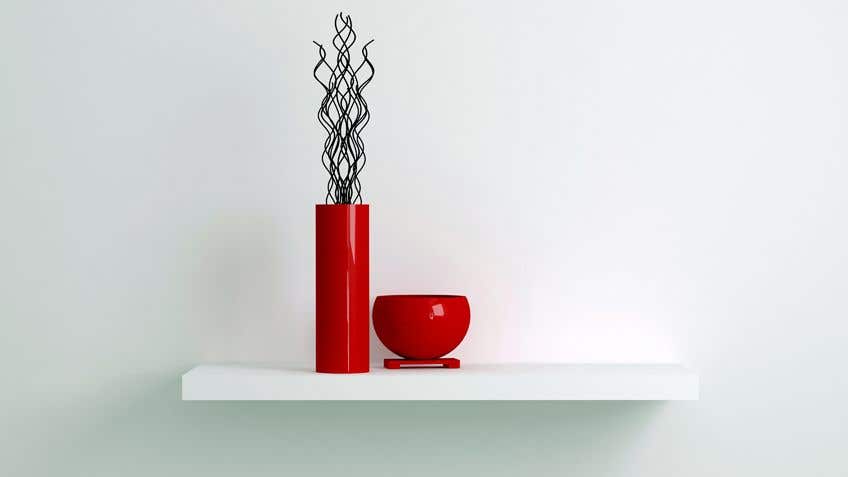 Shelving is the easiest way to create more storage space in the home. Floating shelves are a great way to give your room a clean, neat shelving unit, while also holding a significant weight. The first thing to think about is the size and weight of items that will be going on the shelves.
Check the packaging of the shelves for the weight limit. Most floating shelves come with fixings for stud, hollow and brick walls.
PROJECT CHECKLIST
TOOLS
Hammer, chisel set and screwdriver
Tape measure, ruler and pencil
Carpenters square
Sprit level
Drill driver
Hammer drill and drill bits (if drilling into masonry)
STEP 1: CHECK WALLS
Which type of wall are you fixing the shelf to? If you are dealing with a hollow wall, screwing directly into the wall studs is best. But if you need extra support between the studs, you will have to look at toggles which expand and grab inside the wall as the screw is tightened. Make sure you check for electrical cables, plumbing and gas pipes before you start drilling.
STEP 2: MARK WITH PENCIL
Use a spirit level and draw a line on the wall with a pencil of the location of your shelf. Grab the shelf bracket and mark with a pencil through the screw holes along the wall.

STEP 3: DRILL
Now it's time to drill some holes. Hold the bracket up to the wall and drill in your first screw. Don't tighten it all the way yet. Once all the screws are in, you can tighten them all at once. Make sure you put your fixing screws at the top of the shelf so it doesn't move.

STEP 4: SHELVING
Slide the shelf onto the brackets- you now have more storage and a stylish addition to any room.