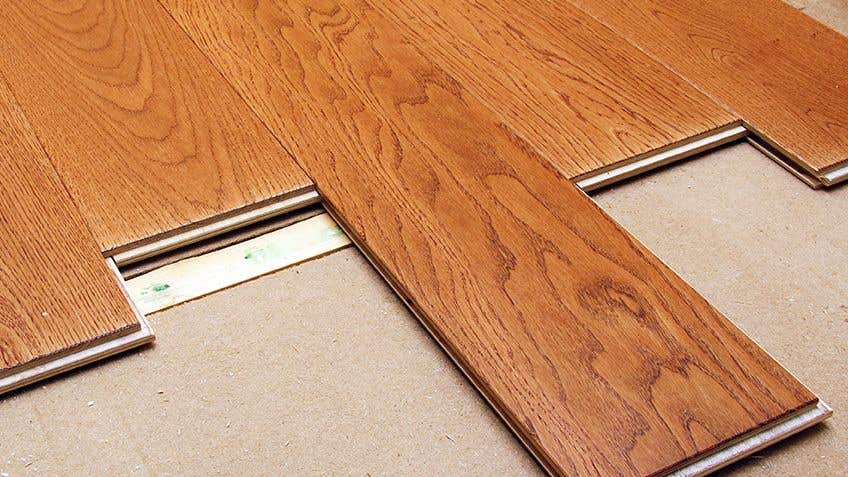 Before laying laminate flooring, an underlay should be fitted to your floor. If you are unsure which underlay to use, chat to the staff at your local Mitre 10. On a concrete slab, it will be covered with a damp-proof underlay.
Project Checklist
Tools
Laminate floor boards
Foam underlay
Trim
Expansion blocks
Utility knife
Knee pads
Step 1: Lay the Underlay

Lay the underlay over the floor area and place the lengths side by side. Trim it to fit with a utility knife. Tape the joins and make sure that they don't overlay- tape is usually provided with underlay, if not use 48mm PVC tape.
Step 2: Laying Boards

Begin laying the boards in a left hand corner with the short tongue against the wall. Place the expansion block against the end of the board and at intervals along the wall. If you have a section left over from the first row, you can use this to start the second row. You'll need to stagger the joints between the boards randomly to get a good result, so make sure the planks are about 400mm on either side of the join in the previous row.
Step 3: Remove Expansion Blocks

Step 4: Look after your new floor
Now to look after your new laminated floor, wipe everyday marks away pretty quick and easy with just a damp cloth. But stay away from any abrasives.
So there it is… a brand new floor that you can do yourself and looks fantastic!