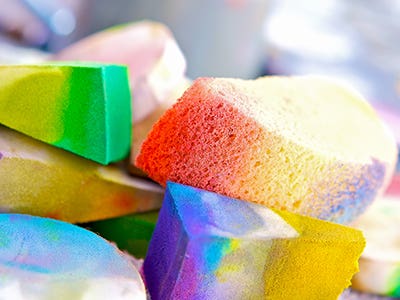 There are always paint jobs to do around the home whether it's ceilings, walls, cupboards and if your painting job never ends up looking the same as in the photos, this how-to will help you master interior painting skills.
Colourwashing
This paint effect produces a finish that is ideally suited to covering up any small imperfections in your surfaces. First, mix a blend of acrylic paint and wallpaper paste - a good rule of thumb is an even 50/50 split. Note that using stronger paint colours and a paler base coat will result in a stronger coloured finish.
To apply your colourwash mixture, use a broad brush or even a sponge.
Dragging
As the name implies, this paint effect involves pulling a clean paint or other brush (special dragging brushes are also available) through paint freshly applied to a surface. Note that vertical lines are generally used, and the final look will depend on he coarseness of the brush.
Sponging
With either a sea sponge or synthetic sponge even inexperienced painters can create a fabulous paint effect. All you need to do is dip your chosen sponge into the paint and dab onto the wall. Corners and edges can be the problem areas with this paint effect, so use a smaller piece of sponge for greater control and consistency.
Generally speaking, a sea sponge will result in smaller, finer marks while a synthetic sponge larger and heavier marks. Experiment with different sponges to find the paint effect you want.
Ragging
Another method for creating a unique paint effect is ragging on or ragging off. If you'd like to rag on, simply dip a rag into your paint and dab onto your surface. To rag off, apply paint with a roller or brush and use a rag to dab paint off. Try a chamois cloth for a defined pattern effect, and remember no matter kind of cloth you use to regularly squeeze out excess paint to avoid blobs and drips.
Roller Fidgeting
Roller fidgeting is a simple technique for a great result! Take two acrylic paints of different colours and pour them side-by-side into a roller tray. Don't worry, they won't mix too much to begin with and actually stay reasonably well separated.
Next, roll a long-nap roller over the surface of the paints until it has absorbed a really thick coat of paint. Roll it onto the wall, varying the angle with each stroke, and watch as the two colours start to mix to a final colour and effect of your choosing. Note that the more paint applied to the wall in this way, the greater the blending of the two colours.
To paint corners and edges, use a 2.5cm brush and stipple the surface until it matches the rest of the job.
Distressing
This paint effect uses exactly the same technique as ragging but with a plastic or paper bag.