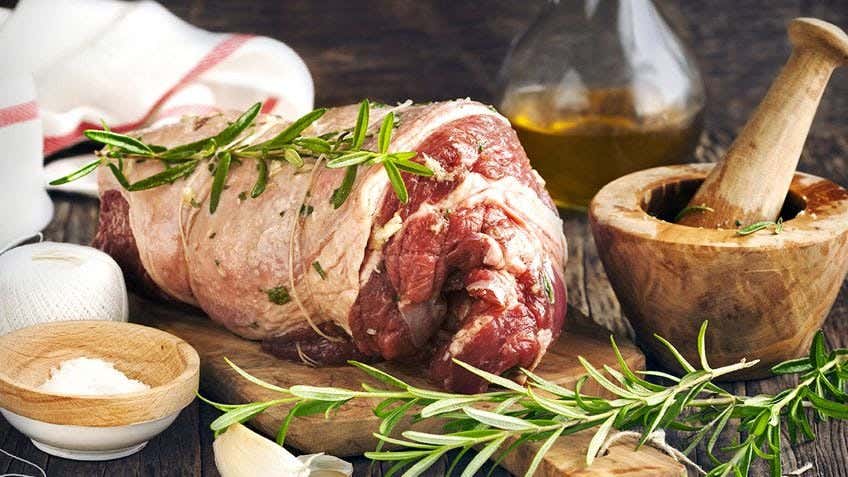 Charcoal spit roasting is a slow cooking process that self-bastes meat in its own juices to produce moist, tender, smoke flavored roast meats. Although a charcoal spit roaster is best used for cooking larger pieces of meat or poultry, nearly anything can be used if prepared properly.
Allow plenty of time for preparation and cooking. Cooking times will vary depending on the type and size of meat.
Do not operate your spit roaster before reading and following manufacturer instructions.
Position your spit roaster outdoors in a well ventilated area and on a level, non-flammable surface. Ensure it is located where you intend to cook as it should not be moved whilst in use.
Never burn BBQ fuel inside homes, vehicles, tents or enclosed areas. Burning BBQ fuel inside can kill you. It gives off carbon monoxide, which has no odour.
Do not place articles on or against your spit roaster.
Do not store chemicals or flammable materials near the spit roaster.
Keep children and pets at least 3 meters away from the charcoal spit roaster when in use.
Do not leave your spit roaster unattended when in use.
Wear heatproof gloves when preparing fuel and adjusting roaster.

Whole birds or portions of meat such as beef, lamb, veal and pork are ideal for cooking with charcoal spit roasters.
Meat portions should be a suitable size for skewering onto the rotisserie prong. Check that the total weight of your meat does not exceed the spit roaster manufacturer weight rating.
Meat can be marinated prior to cooking or basted during the cooking process to provide extra moisture and flavour!
Skewer meat according to manufacturer instructions onto the rotisserie prong. Ensure that weight is distributed evenly to avoid uneven cooking and stress to the rotisserie motor.
Tie wings, legs or loose sections of meat tightly to the body using cooking/butcher string or wire to avoid uneven cooking.
Prior to lighting your fuel, check that the meat is centered and well balanced on the rotisserie prong. Turn the motor on and ensure that the rotisserie turns easily and evenly. A stopping and starting action will cause the food to cook unevenly.
Remove the meat before preparing the fuel.
Prepare fuel and spit roaster

The amount of charcoal required varies with the amount of meat you are cooking. Natural Charcoal Briquettes are available to purchase from Mitre 10 in 4kg and 10kg bags.
Allow approximately 1 kg of charcoal for each kg of meat. Have more charcoal than required on hand, just in case you need to top up!
Remove the cooking grill. If available, place the charcoal grate on the floor of the fire box. This will protect the floor from burning out and prolong the life of the spit roaster.
Place approximately 2/3 of the required charcoal into the firebox and light. Fire lighters or a charcoal fire starter will assist with ignition and are available to purchase at Mitre 10.
Do not pour flammable fuels, oils or spirits into the firebox as this could cause an explosion and result in personal injury.

Once well lit, use a long handled tool to spread the charcoal to the same length of your prepared meat. The flame should not be directly under the meat, instead is should sit around the meat. This prevents fats from dripping onto the charcoal which can cause flare ups and burning to meat.
Replace the cooking grill.
Place a drip pan onto the grill to catch drips of fat from the meat. Various sized aluminium drip pans are available to purchase at Mitre 10.

Position the skewered meat onto the spit roaster and centred over the drip pan.
Turn on the motor.

Liquid or marinades can be placed into the drip pan to steam up and add moisture to the meat. The liquid or marinade can be used to baste your meat during the cooking process. Baste meat as often as your like, but approximately once every half hour should be sufficient.
Add the remaining 1/3 (or more if required) of charcoal to the firebox as necessary during the cooking process.

Check the food at various times during the cooking process, but do not leave unattended.
Cooking times will vary depending on the type and size of meat and the amount of heat produced by your fuel.
| | |
| --- | --- |
| Meat | Approximate Cooking Time |
| Lamb | 1 hour per kg |
| Pork | 1 hour 20 minutes per kg |
| Beef | 40 minutes per kg |
| Whole Chicken | 1.5- 2 hours |
• Use a meat thermometer to ensure the meat has been cooked thoroughly and to your liking.
• Once your meat is cooked, cover with aluminium foil and allow the meat to rest for 10 minutes before cutting and serving.
• Allow the charcoal to burn out. Except in the case of an emergency, never pour water onto hot coals.