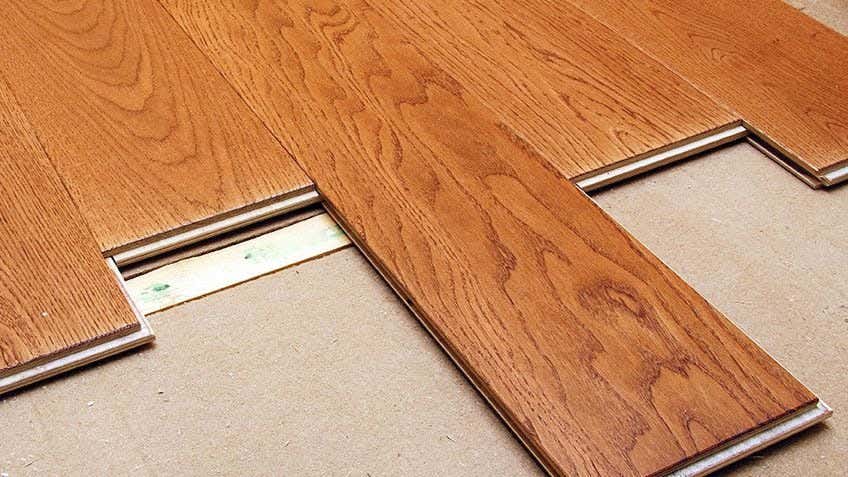 Before laying laminate flooring, an underlay should be fitted to your floor. If you are unsure which underlay to use, chat to the staff at your local Mitre 10. On a concrete slab, it will be covered with a damp-proof underlay.
Project Checklist
Tools
Laminate floor boards
Foam underlay
Trim
Expansion blocks
Step 1 Preparation
Prepare the floorboards by leaving them in the room for a few days to adjust to the temperature, and shuffle the planks to distribute the colours evenly. If required, trim down boards so they sit straight against the wall.

Lay the underlay over the floor area and place the lengths side by side. Trim it to fit with a utility knife. Tape the joins and make sure that they don't overlay- tape is usually provided with underlay, if not use 48mm PVC tape.

Begin laying the boards in a left hand corner with the short tongue against the wall. Place the expansion block against the end of the board and at intervals along the wall. If you have a section left over from the first row, you can use this to start the second row. You'll need to stagger the joints between the boards randomly to get a good result, so make sure the planks are about 400mm on either side of the join in the previous row.
Step 4: Remove Expansion Blocks
Remove the expansion blocks and tuck the beading into the wall skirting. This will allow the floorboards space to breathe and expand when required.

Step 5: Look after your new floor
Now to look after your new laminated floor! Wipe everyday marks away quickly and easily with just a damp cloth. But stay away from any abrasives.
So there it is… a brand new floor that you can do yourself and looks fantastic!
Floating floor FAQs
I'm on a budget - are floating floors a good choice?
Of course! Floating floors are one of the most budget-friendly options for updating your room or replacing old flooring. Floating floors are an alternative to the popular timber flooring, which can provide a near-identical look at a fraction of the price.
What are the advantages of floating floors?
Installing floating floors is relatively quick and easy, and can be completed by even the most novice of DIY enthusiasts. The underlay acts as a moisture barrier, preventing build-up of mould and stains, while the detached nature of the flooring allows for movement and expansion. Plus, common solid wood flooring can be far less stable than floating floors, which are engineered and designed to snap together without adhesives.
What sort of finishes are available?
Floating floors are available in a range of finishes including laminate boards, bamboo boards, engineered timber boards and the pricier solid timber boards.
Ready to lay your new floor?
Mitre 10 can help you prepare for your new flooring with our huge range of flooring accessories including grout, adhesives and sealers. For DIY inspiration, check out our how-to guides for updating and preparing floors. Get your project off the ground sooner with our convenient buy now, pay later methods including ZipPay, Humm and Afterpay. Find your local store or contact our friendly customer care team to help you plan your next project.