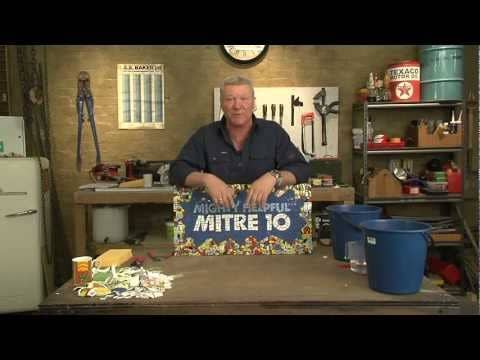 With some old cups and plates, glue and a few other easy to find items you can create a beautiful mosaic which is perfect for kitchen splashbacks, walls or even standalone ornamental pieces.
Project Checklist
Tools
Workman's gloves
Rubber/latex gloves
Safety goggles
Measuring jug
Assorted tiles and crockery
Pillowcase
Hammer
Straight edged tile clippers
Palette knife
Rags and sponges
Mixing bucket and tool
Small notch trowel
Tile adhesive
Grout
Step 1: Choose your tiles

This how-to focuses on tiling straight onto fibre cement sheeting but you can tile onto a splashback, a wall or even a table top.
Mark out the pattern that you will be making- if you get this perfect then it's just like colouring in.
When doing mosaics, you are not restricted to standard tiles- use any crockery and pattern that you like. When breaking items such as tiles or cups there are 2 methods: using tile cutters, or breaking them in a bag with a hammer- just remember to use eye protection. Either way will give you perfect uneven mosaic tiles.
Step 2: Start your Mosaic

The next step is to start your mosiac- use the palette knife to apply glue to the back of a tile and stick it to the surface firmly. Scrape off any excess glue.
Step 3: Grout

Now to choose the colour of your grout- there are various colours and all depends on the colours of your tiles. Ask a mighty helpful team member if you need some assistance. To mix up the grout simply read the directions on the back of the packaging.
Handy tip: Grout can stain your hands so make sure to use dishwashing gloves when handling.
Step 4: Clean

Have the grout bucket and a clean bucket of water by your mosaic so you can regularly clean the sponge. Using a little amount of grout on the sponge, apply to your mosaic- it will look messy but try to get the grout in between the tiles.
Handy tip- mosaics are still broken tiles so watch your fingers and be careful when applying the grout.
Clean the sponge with water and wipe off the excess grout. Repeat the cleaning of the sponge and wiping the mosaic until all the grout comes off the tiles and they look clean and shiny.