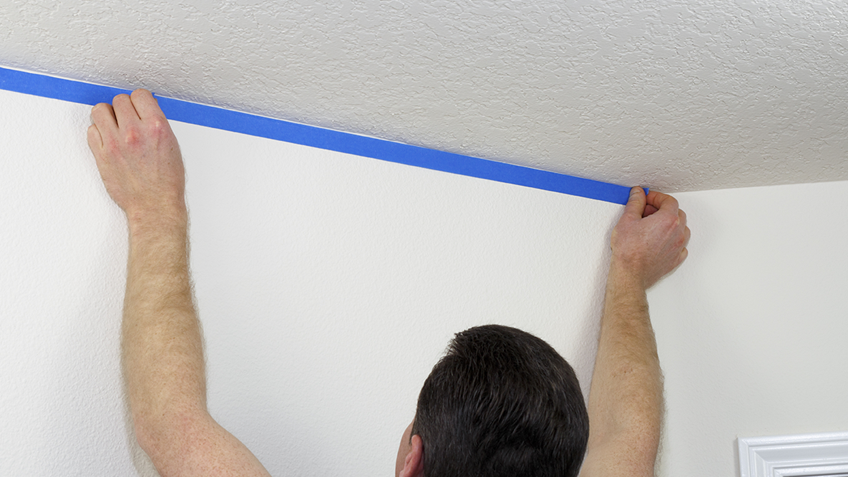 Preparation is the most important part of painting, so pop down to your local Mighty Helpful Mitre 10 to get everything you need.
Selleys Sugar soap
Selleys Spakfilla Rapid
Selleys No More Gaps – or No More Gaps Ezi Press
Fine sandpaper and sanding block
Soft clean cloth and drop sheets
Gloves

STEP 1: GET READY
Start by putting down a drop sheet to catch any dust or spills. Carefully remove any nails or pins in wall surfaces.

STEP 2: SAND & WASH
Sand the wall with sandpaper and a sanding block to remove any flakey paint and flatten uneven surfaces. Add Selleys Sugar Soap to a bucket of water and wash down the wall with a sponge. The great thing about Selleys Sugar Soap is, you don't have to rinse off, just let it dry and it is good to go.


STEP 3: PATCH & FILL
Fill any cracks, dents, nail or screw holes with Selleys Spakfilla Rapid. Using the plastic scraper supplied, scoop a small amount and draw it across each imperfection. Do this in both directions to work the filler into the crack or hole, ensuring there are no air bubbles. Remove any excess.
Allow it to dry, then sand lightly and remove any dust. If needed, apply a second coat of Selleys Spakfilla Rapid.


STEP 4: FILL ANY GAPS
Fill any gaps between the skirting boards with Selleys No More Gaps or No More Gaps Ezi Press. With NMG Ezi Press, the tube is pressurized, meaning there is no need for a caulking gun. Cut the nozzle at a 45-degree angle. Then tilt the tube when applying and make sure you force enough filler into the gaps. Use a wet finger to smooth and clean up with a rag.
Let it skin – approx. 3 hours for water based paint, but allow longer for oil based paint or in cold or humid conditions.
Once you've filled any gaps and prepared your surfaces, you're ready to get stuck into painting.
For more Mighty Helpful service and advice, speak to the team at your local Mighty Helpful Mitre 10.