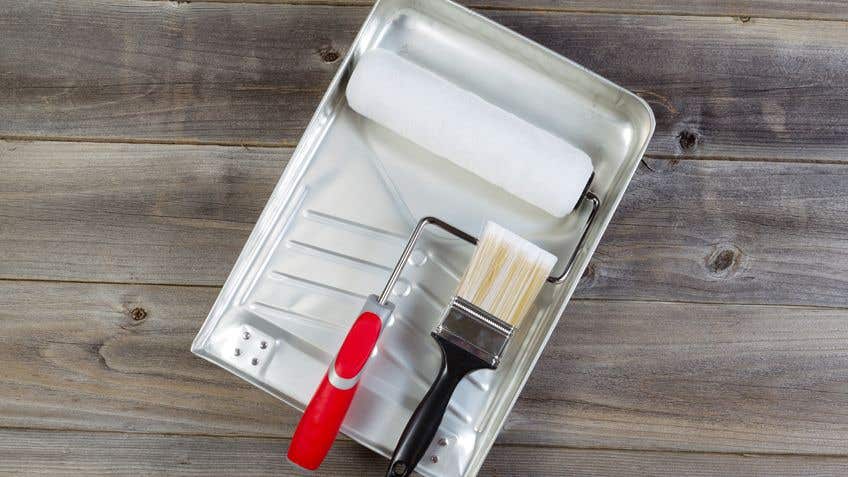 If you want to get a great paint finish, you need to start with the right tools. So let's go through how to choose the best brush and roller for the job.
Step 1: Choose Quality

First rule is to choose quality accessories, the better the quality, the better the result and less work for you. They can hold more paint, have a smoother application and reduce splattering.
Step 2: Size is important

There are a variety of sizes available so think about the size of the job, using the wrong one will be a slow and messy process.
Paint brushes come in sizes 12mm to 100mm and all have different purposes.
12-25mm: For small jobs and touch-up work such as chairs and timber trim.
38mm: Suitable for furniture, small panels, window frames, trellis, mouldings, shutters and downpipes.
50mm: For small to medium size work such as doors, screens, table tops, railings and cabinets.
63mm: A handy size for outdoor furniture, cupboards, gutters, eaves and doors.
75mm: For medium to large areas such as fence posts and rails, floor boards, steps, skirtings and fascia's.
100mm: For all large areas, most suitable for walls, floors, ceilings, roofs and fences.
There are also brushes for specific jobs, such as cutter brushes, which are ideal for door and window frames and are ideal for cutting in for feature walls. The tapered edged tip makes accurate painting easy and a longer handle can help control the stroke and precision of the paint.
Step 3: Choosing a Brush

A key point to think about is the paint you'll be using. Oil-based paints, primers and varnishes are best with a solid, medium length bristle brush, whereas for Acrylic paints you should choose a long bristle brush, ideally with a synthetic bristle as they will give a smoother finish.
If you're staining rough sawn timber, use a short bristle brush which works best for making sure the stain gets in all the cracks
Step 4: Choosing a roller

When you're painting a large surface, rollers can make light and quick work. Consideration should be given to the surface and finish required when selecting a roller.
Generally, the best rule to apply to most painting jobs is the glossier the paint and the smoother the surface, the shorter the pile you should use.
Rollers come in 3 different sizes: A short roller - generally 5-8mm thick - is best with glossy paint. It doesn't hold as much paint but it delivers a smoother finish.
A medium or all-purpose roller - 8-12mm thick- can be used with any paint and produces a soft clean finish on smooth and semi smooth surfaces. It is most suitable for water based paints on surfaces such as walls & ceilings.
Large rollers - 20-32mm thick- are best used on semi rough to rough surfaces such as brick work or masonry. They have exceptional paint holding capacity ideal for working into damaged or textured surfaces to ensure you get good coverage. The general rule- the greater the irregularities the longer the pile you need.
The thickness, the material used and the quality of the roller should be taken into consideration when choosing a roller. Roller sleeves are available in a range of materials and in general different materials should be used with different paints and on different surfaces.
Woven Polyester: Suitable for use with ALL paints including full gloss enamels.
Knitted Polyester: More suitable for use with water based paints on smooth and semi-smooth surfaces such as wall boards and cement render.
Lambswool: Generally used on rougher surfaces such as cement render and brickwork because of the longer pile height.
Mohair: Uused with full and semi-gloss enamels on smooth surfaces. Ideal for applying polyurethanes, epoxy resins and fiberglass coatings.
Foam: For use with full and semi-gloss enamels on smaller areas such as kitchen cupboards where a mirror finish is required.
Micro Fibre: Used with most water based paints. The short pile is especially suited for use with acrylic enamel paints.
Textured: Coarse, medium, fine covers for textured coats.