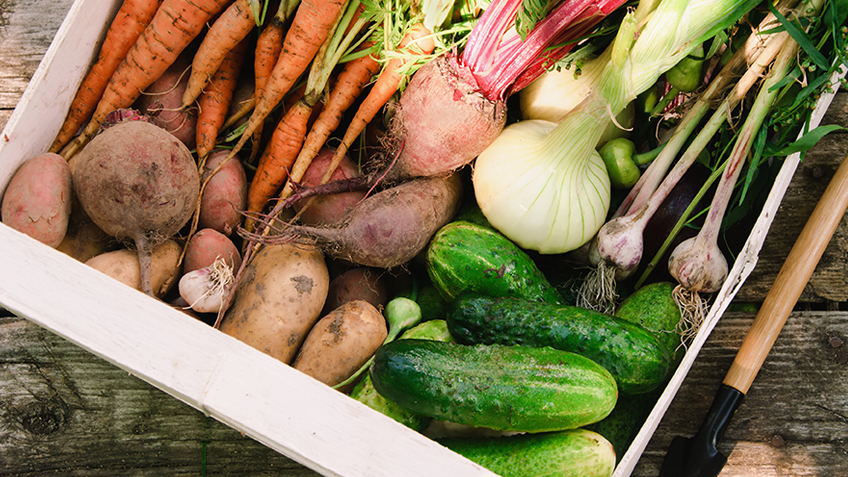 There's nothing nicer than preparing a delicious meal with produce that you have grown yourself. From tomatoes and herbs to broccoli, there's a great pleasure in knowing it just can't get any fresher.
Project Checklist
Materials
Garden bed
Plants
Gardening handtools
Rake
Hose and fittings
Watering can
Gardening gloves
Potting Mix
Mulch
Compost
Fertilizer
Seeds and seedlings
STEP 1: CHOOSE AN AREA

First thing is to figure out the best place to build your garden bed. All veggies need sunshine and morning sun is ideal, so look for an easterly aspect. You'll also need to protect your new seedlings from the elements, especially in harsh weather conditions. Avoid areas with large trees, as they can steal moisture and nutrients from your growing area.
STEP 2: ASSEMBLE GARDEN BED

Lay out all the parts of the garden bed and pull the plastic film off the steel panels. Check the instructions for which steel panel to start with. With your garden gloves on, take the first piece of corrugated steel and carefully slide one PVC post onto the end of the steel panel vertically. Make sure each press lug in the steel panel slides freely inside the PVC groove. Now take the next sheet of metal into the other side of the first post. Keep adding posts and panels until all are joined together. Next, press the post gaps on top of each post.
STEP 3: PLANT

You can either use the cardboard packaging that the garden bed came in as a base for your garden, or can choose to line your veggie pack with weed matting. The garden beds are ready to be filled with planting soil and compost. Check with your local Mitre 10 to find the best soil mixture to use for your plants. Most vegetables can be bought as seedlings, or you can start from scratch and plant seeds. If you do plant from seeds, soil preparation is particularly important.
STEP 4: MAINTAIN YOUR PLANTS

Water your seedlings in well and always check the soil and keep it moist. Regular doses of organic or artificial fertilizers will encourage growth. Manure, blood and bone and liquid fertilizers will also get the nutrients going too.
Insects and diseases are going to love your garden as much as you do. So to keep them at bay, there are numerous options depending on what you are growing- head down to your local Mitre 10 for advice on the best product for your garden.