Selecting and installing shadecloth is easy
Add shadecloth to your home and garden and you have the perfect answer for your outdoor summer living. Sheadecloth will screen out the harsh, hot sun while allowing diffused light to shine through and turn your pergola or free-stanging gazebo ino a shady backyard oasis.
Your Materials Checklist
Shadecloth knitted or woven in 1830mm or 3660mm widths

Timber Studs for wider timber

Timber Fasteners for softer timbers and narrow beams

Butterfly Clips for timber & metal frames, wire fences

Tie Wraps for metal posts, steel pipes

Lacing Cord for use with lacing needle for timber or metal frames, steel posts

Eyelets for wire fixing
Tools for the job
Shadecloth Cutter or Scissors (for cutting and trimming)

Claw Hammer (for hammering in timber studs or fasteners)

Lacing Needle and

Lacing Cord (for use with timber or metal frames, steel posts
Step 1: Choosing your shadecloth
Shadecloth is a tough, durable fabric made specifically to withstand the harsh Australian sun and prolonged exposure to weather extremes. Knitted shadecloth is particularly ideal. It won't tear or fray when cut, making it easy to install. And because it won't rot, resists mildew and is unaffected by most horticultural chemicals, it is ideal in the garden to promote plant growth and minimise wind, hail and frost damage. Knitted varieties of shadecloth are tough, strong and durable. Some manufacturers claim knitted shadecloth will last 15 – 20 years – about twice as long as a woven cloth. Creatively applying knitted shadecloth is bound to enhance your outdoor living areas and its strength and long life will save you money in the long run. Today you also have a bigger choice of lifestyle fashion colours. In the past, Green or Black was all that was available. Now Sandstone, Grey, Sea Green, Eucalypt, Wheat, Heritage Green, Rustic, Sage green/beige and midnight green/champagne are available, allowing you complete freedom of expression to match your outdoor colour schemes.
Step 2: How much shade
You must also consider the density of shadecloth you choose. Shadecloth comes in a range of sun filtering densities to suit different climatic conditions and applications. The most common, accurate U.V. factors are 50%, 70% and now 90%. The most popular with homeowners is 70% U.V. factor for covering Pergolas, Gazebos and Ferneries. The 90% is purposely designed for people protection to block the sun's harmful U.V. rays and can be used just about anywhere for just about any application (Fig. 1).

Step 3: How to do it
Timber Structures
For timber pergolas, gazebos, ferneries and shade houses, roll out the shadecloth across your structure, and loosely pull it into position, leaving about 300mm overhang all around. Knitted fabric can be attached directly onto the frame. Fix one of the longer edges first, or the edge closest to your house. Start at one end, applying medium tension as you move along. Attach to the timber by driving shadecloth timber studs, or for narrow beams, timber fasteners (Fig. 2). Fix the shadecloth in from the edge of each beam or post with fasteners every 300-600mm. Studs or fasteners should be driven in 5mm from the edge of the fabric. Make sure the knitted lines in the shadecloth are straight. Now fasten one of the shorter edges, then another long edge, and finish by fixing the remaining short edge (Fig. 2a). Fix to any middle or intermediate supports last. Now, neatly trim off all edges using scissors or shadecloth cutter. An alternative method is to use butterfly clips. Open the clips and insert the edge of the fabric into the clips fully, then close them (Fig. 3). Attach the clips to the timber by driving a nail through the top hole of each clip into the frame.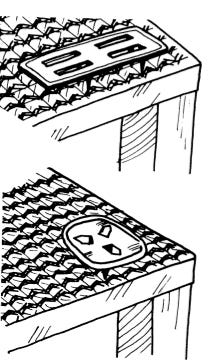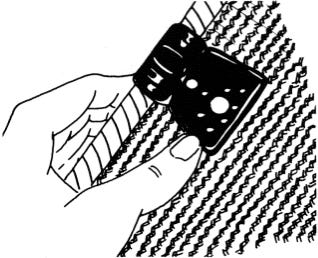 Metal Frames
There are several methods you could use, with special shadecloth butterfly clips probably the easiest. First, cut your fabric to fit within the frame. Then attach your butterfly clips every 500mm apart as for timber frames (Fig. 3). Thread wire, cable or rope through the opening in the clip hinge, and lace on to the framework using lacing cord and curved lacing needle designed not to damage the fabric. (Fig. 4). You can also wire the fabric onto the frame. In this case, if using knitted shadecloth, allow for the edge of the fabric to be doubled over all around when cutting for extra strength. Then wire directly to the framework (Fig. 5). Another method is to insert eyelets every 30mm apart and lace it onto the frame with lacing needle and lacing cord (Fig. 6). For metal posts, heavy cable or steel pipe frames, special tie wraps are available to make the job quick and easy (Fig. 7).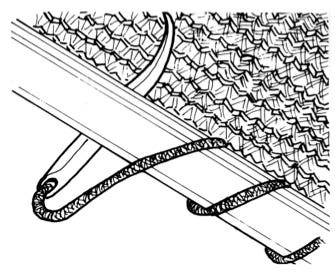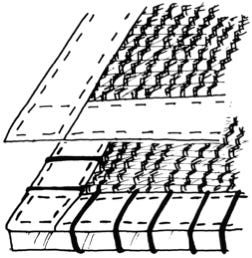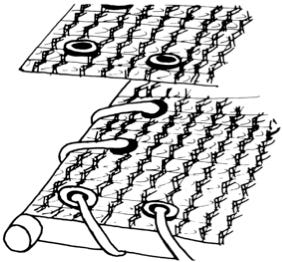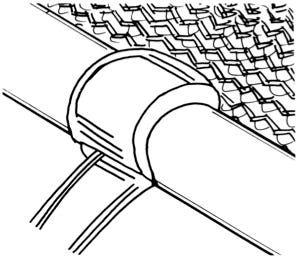 Some great ideas
Shadecloth can help you turn your backyard into a cool, private oasis. A shady cabana near the pool to laze in after a refreshing dip...shelter for an informal entertainment area...turning a hot courtyard into a cool corner...providing a shade house for flowers and plants...the use of shadecloth is only limited by your imagination. It is ideal for car and boat shadeports and ferneries, shading aviaries and pets, providing a sight screen to hide sheds and refuse areas, as windbreaks for small trees, tennis courts and carport sides. These are just a few ideas to get you thinking.