Join the Mitre 10 Trade App Today and Get Exclusive Discounts!
The Mitre 10 Trade App is the perfect companion for tradies who want to save money and time on their purchases. Join now and benefit from exclusive Tradie discounts, digital tools, dedicated support and much more!
Be recognized as a tradie and receive a tradie discount without having an account. Perfect for the travelling tradie, to be recognized as a Mitre 10 member and still receive a discount at over 360 participating stores across Australia.

Download the app and register
Tradie discount for non-account purchases
Get discounts on your non-account purchases with our Tradie Discount program. We offer great savings for those who sign up for our Tradie Discount membership.
Keep track of your purchases with our easy-to-use purchase history feature. Easily view past purchases with just a few clicks.
Exclusive offers and promotions
Stay up to date with the latest offers and promotions available only to Mitre 10 Trade App users. Don't miss out on exclusive deals that can help you save even more!
Digital Tools & Dedicated Support
Take advantage of our digital tools like the Trade Accounts online to help make your next purchase even easier. We also provide dedicated support so you can get help when you need it most.

How to get your Tradie discount
Step 1. Download the Mitre 10 Trade app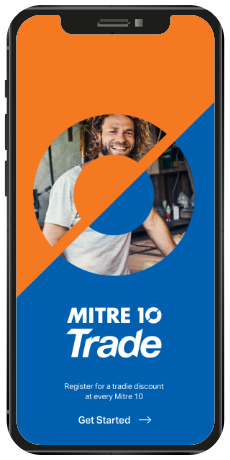 Step 2. Sign up and validate your email and ABN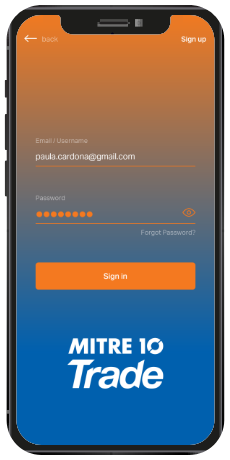 Step 3. Show your barcode at the counter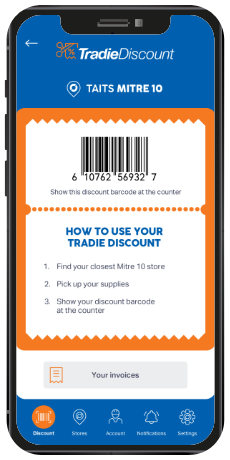 Have a Trade Online Account?
If you are already an existing user of your Trade Online Account, you can now link your account to the app. Save on time and keep track of all your accounts in one location.
Have an account but not online?
Trade Digital Services are only available at participating Mitre 10 stores. Talk to your Trade Account Manager about availability.
FAQ's
What happens if I'm an apprentice and don't have an ABN?
Apprentices can still become a member and receive a discount but you will need to use your employers ABN. ABNs can be used across multiple members.
What discount do I get by showing my Tradies Discount?
Because our Mitre 10 stores are Independently owned, the store will determine what the discount will be and across which Trade products. This can range from 3% - 7% or more. We recommend speaking to the store if you want to know more. Discounts are not available at every Mitre 10 store, and every stores discount range will be different.
Whats the process in store?
Show the barcode on the app at the Trade counter when making your purchase, the store will scan your barcode or add a discount at the register. Please note some barcodes may not scan.
I have a Trade Account, can I also get the Tradie Discount?
If you have an existing Trade Account with your home store, you will not be able to receive the additional discount from the Tradie discount app on top of your Trade Account discount. You can only receive a discount on one or the other. The Tradie Discount App is best used when you don't want to put it on your account, if you want your apprentice to quickly pick up some you missed, or if your visiting another Mitre 10 Trade store and still want to be recognized as a member.

Whats Trade Online?
Trade Online is a 24/7 online Account access where builders and tradies can see invoice, statements, account balances and make payments. This is available to builders of participating stores. To see if your store is participating or want more information, https://www.mitre10.com.au/trade/tradeonline You can access and view your Trade Online account through the app as well, click the Trade Account button in the app to start the linking process.
Do you have an existing Trade online account?
If you or your business has an existing Trade Online account, you will need to approve anyone who is wanting to use the businesses ABN on the Trade App before receiving access. Multiple people can use the same ABN, it will need to be approved by your businesses administrator via emails.

Have you signed up for the Tradie App and want to add a Trade Online account?
You can access and view your Trade Online account through the app as well, click the Trade Account button in the app to start the linking process.
I've signed up to Trade App but my sign up says it needs to be approved?
If your business has a Trade Online account with that ABN, and you sign up for a Trade App with the same ABN, it will need to approved by the Administrator of that ABN's Trade Online account. Once approved, you will receive an email notifying you that you can log in to the App
What if I can't see my transactions history from within the App?
Receipts can take up to 24 hours to load onto the app. It is also only available in certain participating stores. Please contact us at M10TradeApp@mitre10.com.au and we can reach out to the store to see if it can be enabled

Where can I suggest an enhancement/report an issue/etc
Email us at M10TradeApp@mitre10.com.au
Can't find your answer here?
You can speak to your store or contact us at M10TradeApp@mitre10.com.au for any app user problems – we're here to help!
New South Wales
| | | | | |
| --- | --- | --- | --- | --- |
| AVALON BEACH - Johnson Bros Mitre 10 | 49 Avalon Parade | AVALON BEACH | 2107 | 02 9918 7135 |
| BATHURST - Petrie's Mitre 10 | 64-74 Bentinck Street | BATHURST | 2795 | 02 6331 1244 |
| BEGA - Bega Mitre 10 | 127 Auckland Street | BEGA | 2550 | 02 6491 6800 |
| BERMAGUI - Neilsons Mitre 10 | 10 Bunga Street | BERMAGUI | 2546 | 02 6493 4131 |
| BLACKHEATH - Blackheath Mitre 10 | 123-132 Station Street | BLACKHEATH | 2785 | 02 4787 8368 |
| BONDI JUNCTION - Sunlite Mitre 10 | 452 Oxford Street | BONDI JUNCTION | 2022 | 02 9388 9944 |
| BOURKE - Wood Bros Mitre 10 | 43 Mitchell Street | BOURKE | 2840 | 02 6872 2222 |
| BYRON BAY - Byron Bay Mitre 10 | 148 Jonson Street | BYRON BAY | 2481 | 02 6685 8033 |
| CAMDEN - Camden Mitre 10 | Corner Exeter & Macquarie Grove Roads | CAMDEN | 2570 | 02 4655 7081 |
| CESSNOCK - Eatons Mitre 10 | 281 Vincent Street | CESSNOCK | 2325 | 02 4990 3112 |
| COFFS HARBOUR - Petrie's Mitre 10 | 187 - 189 Orlando Street | COFFS HARBOUR | 2450 | 02 6651 6247 |
| CONDOBOLIN - Vane Tempest Bros Mitre 10 | 76 William Street | CONDOBOLIN | 2877 | 02 6895 2183 |
| COOMA - Cooma Mitre 10 | 28 Vale Street | COOMA | 2630 | 02 6452 1755 |
| COOTAMUNDRA - Mitchell's Mitre 10 | 190 Hovell Street | COOTAMUNDRA | 2590 | 02 6942 2622 |
| DENILIQUIN - Deniliquin Mitre 10 | 98 Hardinge Street | DENILIQUIN | 2710 | 03 5881 1322 |
| DUBBO - Petrie's Mitre 10 Trade Centre | 62 FITZROY STREET | DUBBO | 2830 | |
| EBENEZER - King's Mitre 10 | 470 Sackville Road | EBENEZER | 2756 | 02 4576 9888 |
| EDEN - Eden Mitre 10 | 115 Princes Highway | EDEN | 2551 | 02 6496 0400 |
| FORBES - Acheson's Mitre 10 | 7 Oxford Street | FORBES | 2871 | 02 6851 1111 |
| FORESTVILLE - Eaton's Mitre 10 | 9 Cook Street | FORESTVILLE | 2087 | 02 9452 1011 |
| GILGANDRA - Gilgandra Mitre 10 | 52 - 54 Miller Street | GILGANDRA | 2827 | 02 6847 1551 |
| GLEN INNES - Hick's Mitre 10 | 135 Grey Street | GLEN INNES | 2370 | 02 6732 1684 |
| GOULBURN - Goulburn Mitre 10 | 304 Sloane Street | GOULBURN | 2580 | 02 4821 3533 |
| GUNDAGAI - Gundagai Mitre 10 | 1 BYRON STREET | GUNDAGAI | 2722 | 02 6944 1187 |
| GUNNEDAH - Petrie's Mitre 10 | 141 Marquis Street | GUNNEDAH | 2380 | 02 6742 0735 |
| JINDABYNE - Jindabyne Mitre 10 | 3 Snowy River Avenue | JINDABYNE | 2627 | 02 6451 4200 |
| KATOOMBA - Katoomba Mitre 10 | 46 Wilson Street | KATOOMBA | 2780 | 02 4782 6066 |
| KINCUMBER - Kincumber Mitre 10 | Kerta Road & Empire Bay Drive | KINCUMBER | 2251 | 02 4368 3866 |
| KOOTINGAL - Kootingal True Value Hardware | 24 Gate Street | KOOTINGAL | 2352 | 02 6760 3799 |
| KURRI KURRI - Kurri Kurri Mitre 10 | 139 Lang Street | KURRI KURRI | 2327 | 02 4937 1153 |
| LEETON - Leeton Mitre 10 | 189-195 Palm Avenue | LEETON | 2705 | 02 6953 2377 |
| LIVERPOOL - Liverpool Mitre 10 | 247/251 Northumberland Street | LIVERPOOL | 2170 | 02 9601 3401 |
| MACKSVILLE - Macksville Mitre 10 | 15 Cooper Street | MACKSVILLE | 2447 | 02 6568 1633 |
| MACLEAN - Maclean Mitre 10 | 34-36 RIVER STREET | MACLEAN | 2463 | 02 6645 1888 |
| MARRICKVILLE - Marrickville Mitre 10 | 175 Marrickville Road | MARRICKVILLE | 2204 | 02 9564 0366 |
| MITTAGONG - Gubbins Pulbrook Mitre 10 | Cnr Bowral Rd & Princess St | MITTAGONG | 2575 | 02 4872 5300 |
| MITTAGONG - Gubbins Pulbrook Mitre 10 Trade Centre | 10 Cavendish Street | MITTAGONG | 2575 | 02 4872 5300 |
| MONA VALE - Johnson Bros Mitre 10 | 73 Bassett Street | MONA VALE | 2103 | 02 9999 3340 |
| MOREE - Moree Mitre 10 | 321 Frome Street | MOREE | 2400 | 02 6752 2344 |
| MORUYA - Moruya Mitre 10 | 80 Queen Street | MORUYA | 2537 | 02 4474 4099 |
| MUDGEE - Petrie's Mitre 10 | 144-148 Church Street | MUDGEE | 2850 | 02 6372 1111 |
| MULLUMBIMBY - James Hardware & Electrical Mitre 10 | 95-101 Stuart Street | MULLUMBIMBY | 2482 | 02 6684 2083 |
| MURWILLUMBAH - Budds Mitre 10 | 81 Wollumbin Street | MURWILLUMBAH | 2484 | 02 6672 2577 |
| NAROOMA - Narooma Mitre 10 | 127 Wagonga Street | NAROOMA | 2546 | 02 4476 4488 |
| NEWTOWN - Sunlite Mitre 10 | 267 King Street | NEWTOWN | 2042 | 02 9565 5555 |
| NORTH RICHMOND - King's Mitre 10 | 22 Beaumont Ave | NORTH RICHMOND | 2754 | 02 4570 6666 |
| OBERON - Mawhood's Mitre 10 | 69 Dart Street | OBERON | 2787 | 02 6336 1507 |
| ORANGE - Petrie's Mitre 10 Trade Centre | 253 McLachlan Street | ORANGE | 2800 | 02 6362 4477 |
| OURIMBAH - Eatons Mitre 10 | 2 Burns Road | OURIMBAH | 2258 | 02 4362 1500 |
| PADDINGTON - Sunlite Mitre 10 | 347 Oxford Street | PADDINGTON | 2021 | 02 9357 3111 |
| PAMBULA - Pambula Mitre 10 | 10 Toallo Street | PAMBULA | 2549 | 02 6495 8000 |
| PEAKHURST - Peakhurst Mitre 10 | 695 Forest Road | PEAKHURST | 2210 | 02 9533 5549 |
| PENDLE HILL - Harper's Mitre 10 | 353 Wentworth Avenue | PENDLE HILL | 2145 | 02 9896 1000 |
| PICTON - Picton Mitre 10 | Lot 1 Henry Street | PICTON | 2571 | 02 4681 0022 |
| PORT MACQUARIE - Petrie's Mitre 10 | 5 Barton Crescent | PORT MACQUARIE | 2444 | 02 6581 2777 |
| QUIRINDI - Quirindi Mitre 10 | 195 Hawker Street | QUIRINDI | 2343 | 02 6746 2215 |
| SINGLETON - Eatons Mitre 10 | 1 Kelso Street | SINGLETON | 2330 | 02 6571 5083 |
| SYDNEY - Sunlite Mitre 10 (Pitt Street) | 74 Pitt Street | SYDNEY | 2000 | 02 9231 3331 |
| SYDNEY - Sunlite Mitre 10 (York Street) | 60 York Street | SYDNEY | 2000 | 02 9299 1944 |
| TENTERFIELD - Jock Ross Mitre 10 | 210 Rouse St | TENTERFIELD | 2372 | 02 6736 1390 |
| TORONTO - Lake Mitre 10 | 37 Burleigh Street | TORONTO | 2283 | 02 4959 7888 |
| TUMBARUMBA - Hammond's Mitre 10 | 39 The Parade | TUMBARUMBA | 2653 | 02 6948 2266 |
| TUMUT - McDougall & Cruise Mitre 10 | 26 Russell Street | TUMUT | 2720 | 02 6947 1624 |
| ULLADULLA - Ulladulla Mitre 10 | 166 Princes Highway | ULLADULLA | 2539 | 02 4455 1522 |
| WARIALDA - Warialda Mitre 10 | 26 Stephen Street | WARIALDA | 2402 | 02 6729 1518 |
| WAUCHOPE - Hastings Co Operative Mitre 10 | 1 Carrington Street | WAUCHOPE | 2446 | 02 6588 8940 |
| WEE WAA - Wee Waa Mitre 10 | 98 Rose Street | WEE WAA | 2390 | 02 6795 4551 |
| WOOLGOOLGA - Woolgoolga Mitre 10 | 3 Featherstone Drive | WOOLGOOLGA | 2456 | 02 6654 1229 |
| YAMBA - Yamba Mitre 10 | 2 Uki Street | YAMBA | 2464 | 02 6646 9999 |
Northern Territory
| | | | | |
| --- | --- | --- | --- | --- |
| KATHERINE EAST - Katherine Mitre 10 | 34 Chardon Street | KATHERINE EAST | 0850 | 08 8972 2577 |
Queensland
| | | | | |
| --- | --- | --- | --- | --- |
| AYR - Parkside Mitre 10 | 67 Queen Street | AYR | 4807 | 07 4783 8250 |
| BEAUDESERT - Beaudesert Mitre 10 | 24-26 William Street | BEAUDESERT | 4285 | 07 5541 1888 |
| BEENLEIGH - Woodmans Mitre 10 | 204 Main Street corner of Martens Street | BEENLEIGH | 4207 | 07 3441 9500 |
| BILOELA - Biloela Mitre 10 | 34 Dawson Highway | BILOELA | 4715 | 07 4992 1255 |
| BOONAH - Boonah Mitre 10 | 4 Park Street | BOONAH | 4310 | 07 5463 1805 |
| BOWEN - Pilcher's Mitre 10 | 56 Powell Street | BOWEN | 4805 | 07 4786 1044 |
| BUNDABERG - Sunshine Mitre 10 | 1 Electra Street | BUNDABERG | 4670 | 07 4331 8000 |
| BUNDALL - Bundall Mitre 10 | Shop 1 / 21 Ashmore Road | BUNDALL | 4217 | 07 5538 0997 |
| CALOUNDRA - Sunshine Mitre 10 | 5 Sydal Street | CALOUNDRA | 4551 | 07 5413 2400 |
| CANNONVALE - Porters Mitre 10 | 2 Carlo Drive | CANNONVALE | 4802 | 07 4948 5555 |
| CHINCHILLA - Mullin's Mitre 10 | 42 Middle Street | CHINCHILLA | 4413 | 07 4662 7099 |
| CLERMONT - Belyando Mitre 10 | 90 Herschell Street | CLERMONT | 4721 | 07 4983 1304 |
| CLEVELAND - Cleveland Mitre 10 | 25-31 Shore Street West | CLEVELAND | 4163 | 07 3821 1153 |
| CLONCURRY - Brodie Mitre 10 | cnr Sheaffe & Scarr Streets | CLONCURRY | 4824 | 07 4742 1414 |
| COOLUM BEACH - Coolum Beach Mitre 10 | 14 William Street | COOLUM BEACH | 4573 | 07 5446 1191 |
| COOROY - Sunshine Mitre 10 | 18 Maple Street | COOROY | 4563 | 07 5454 9500 |
| DALBY - Sunshine Mitre 10 | 42-48 Patrick Street | DALBY | 4405 | 07 4662 2822 |
| EMERALD - Emerald Mitre 10 | 50 Robert Street | EMERALD | 4720 | 07 4982 1722 |
| FERNVALE - Fernvale Mitre 10 | 1452 Brisbane Valley Highway | FERNVALE | 4306 | 07 5426 7300 |
| GAYNDAH - Gayndah Fruitgrowers Mitre 10 | 49 Capper Street | GAYNDAH | 4625 | 07 4161 1100 |
| GLASS HOUSE MOUNTAIN - Glass House Mountains Mitre 10 | 5 Co-op Lane | GLASS HOUSE MOUNTAIN | 4518 | 07 5496 9202 |
| GOONDIWINDI - Border Builders Mitre 10 | 119 Marshall Street | GOONDIWINDI | 4390 | 07 4671 1588 |
| GYMPIE - Sunshine Mitre 10 | 3 Langton Road | GYMPIE | 4570 | 07 5489 9999 |
| INGHAM - Canegrowers Mitre 10 | Growers Co-Op Society Ltd 72 Townsville Road | INGHAM | 4850 | 07 4776 1622 |
| INGHAM - Ingham Manufactures Mitre 10 | 100 Herbert Street | INGHAM | 4850 | 07 4776 7960 |
| IPSWICH - Ipswich Mitre 10 | 9 Turley Street | IPSWICH | 4305 | 07 3470 7100 |
| JIMBOOMBA - Woodmans Mitre 10 | 20 Anders Street . | JIMBOOMBA | 4280 | 07 5546 0044 |
| KALBAR - Kalbar Mitre 10 | 30 Purdon Street | KALBAR | 4309 | 07 5463 7210 |
| KENMORE - Kenmore Mitre 10 | Kenmore Village Shopping Centr Brookfield Road | KENMORE | 4069 | 07 3878 3700 |
| KILCOY - Duffys Mitre 10 | 50 Mary Street | KILCOY | 4515 | 07 5497 1577 |
| KINGAROY - Sunshine Mitre 10 | Rogers Drive | KINGAROY | 4610 | 07 4172 9200 |
| KUNDA PARK - Sunshine Mitre 10 | 520 Maroochydore Road | KUNDA PARK | 4556 | 07 5477 2677 |
| LAIDLEY - Goodwin & Storr Mitre 10 | 137 Patrick Street | LAIDLEY | 4341 | 07 5465 1144 |
| LONGREACH - Smith Bros Mitre 10 | 114 Eagle Street | LONGREACH | 4730 | 07 4658 1200 |
| MACKAY - Porters Mitre 10 | Cnr Brisbane & Gordon Streets | MACKAY | 4740 | 07 4967 3333 |
| MALENY - The Range Hardware & Hire Mitre 10 | 4 Teak Street | MALENY | 4552 | 07 5494 2466 |
| MAREEBA - Sunshine Mitre 10 | 91 Byrnes Street | MAREEBA | 4880 | 07 4245 9040 |
| MARIAN - Porters Mitre 10 | 213-247 Anzac Avenue | MARIAN | 4753 | 07 4968 7600 |
| MILES - Murilla Mitre 10 | 19 Murilla Street | MILES | 4415 | 07 4627 1525 |
| MILLMERRAN - Millmerran Mitre 10 | 59 - 61 Campbell Street | MILLMERRAN | 4357 | 07 4695 1636 |
| MISSION BEACH - Mission Beach Mitre 10 | 2 Dewar Street | MISSION BEACH | 4852 | 07 4068 7322 |
| MITCHELL - Mitchell Mitre 10 | 89-91 CAMBRIDGE STREET | MITCHELL | 4465 | 07 4623 1399 |
| MITCHELTON - Doyles Mitre 10 Trade Centre | 27 Blackwood Street | MITCHELTON | 4053 | 07 3355 6122 |
| MONTO - Monto Mitre 10 | 37 Newton Street | MONTO | 4630 | 07 4166 1558 |
| MORANBAH - High Country Mitre 10 | 19 Bacon Street | MORANBAH | 4744 | 07 4941 7135 |
| MOURA - Moura Mitre 10 | 3 Theodore Road | MOURA | 4718 | 07 4997 1612 |
| MUNDUBBERA - Balshaw's Mitre 10 | 54 Stuart-Russell Street | MUNDUBBERA | 4626 | 07 4165 4301 |
| MURGON - Murgon Mitre 10 | 126 Lamb Street | MURGON | 4605 | 07 4168 1279 |
| NAMBOUR - Sunshine Mitre 10 | 980 NAMBOUR CONNECTION ROAD | NAMBOUR | 4560 | 07 5441 9900 |
| NARANGBA - Millers Mitre 10 | Cnr Old Gympie & Mackie Roads | NARANGBA | 4504 | 07 3888 0177 |
| NELLY BAY - Magnetic Island Mitre 10 | 43 Sooning Street | NELLY BAY | 4819 | 07 4758 1591 |
| NOOSAVILLE - Sunshine Mitre 10 | Lots 16-17 Venture Drive | NOOSAVILLE | 4566 | 07 5455 9899 |
| NORTH TAMBORINE - North Tamborine Mitre 10 | 29-31 Main St | NORTH TAMBORINE | 4272 | 07 5545 1170 |
| PLAINLAND - Plainlands Mitre 10 | 18 Cemetery Road | PLAINLAND | 4341 | 07 5465 6648 |
| PROSERPINE - Porters Mitre 10 | 79 Main Street | PROSERPINE | 4800 | 07 4945 6000 |
| ROCKHAMPTON NTH - Finch's Mitre 10 | 113 Elphinstone Street | ROCKHAMPTON NTH | 4701 | 07 4928 5555 |
| ROMA - Sunshine Mitre 10 | 49 McDowall Street | ROMA | 4455 | 07 4622 2555 |
| SANDGATE - Jeays Mitre 10 | 10 Hancock Street | SANDGATE | 4017 | 07 3269 1015 |
| SARINA - Porters Mitre 10 | 3-5 Broad Street | SARINA | 4737 | 07 4859 3600 |
| SPRINGSURE - Foot & Barrett Mitre 10 | 54 Eclipse Street | SPRINGSURE | 4722 | 07 4984 1633 |
| TAROOM - Taroom Mitre 10 | Kelman Street | TAROOM | 4420 | 07 4627 3180 |
| TEXAS - Texas Mitre 10 | 68 High Street | TEXAS | 4385 | 07 4653 1499 |
| TIN CAN BAY - Cooloola Mitre 10 | 7 Skullett Drive | TIN CAN BAY | 4580 | 07 5486 2000 |
| TOOWOOMBA - BMS Mitre 10 | 1-3 Carrington Rd | TOOWOOMBA | 4350 | 07 4659 3200 |
| TOOWOOMBA - BMS Mitre 10 (Ruthven Street) | 252 Ruthven Street | NORTH TOOWOOMBA | 4350 | 07 4659 3600 |
| TOOWOOMBA - BMS Mitre 10 (Stenner Street) | 446-456 Stenner Street | DARLING HEIGHTS | 4350 | 07 4659 3400 |
| TOWNSVILLE - Addison's Mitre 10 | 243 Ingham Road | TOWNSVILLE | 4810 | 07 4775 7566 |
| TULLY - Tully Canegrowers Mitre 10 | 59 Butler Street | TULLY | 4854 | 07 4068 4900 |
| WEIPA - Sunshine Mitre 10 | 2 Iraci Crescent | WEIPA | 4874 | 07 4069 7486 |
| YEPPOON - Irons Mitre 10 | 5 - 15 McBean Street | YEPPOON | 4703 | 07 4939 3700 |
South Australia
| | | | | |
| --- | --- | --- | --- | --- |
| ALDINGA - Flinders Mitre 10 | Aldinga Beach Road | ALDINGA | 5173 | 08 8381 5555 |
| BALHANNAH - Balhannah Mitre 10 | Unit 1/37 Onkaparinga Valley Road | BALHANNAH | 5242 | 08 8398 7800 |
| BRIGHTON - Brighton Mitre 10 | 419 Brighton Road | BRIGHTON | 5048 | 08 8296 8522 |
| CLARE - Pink's Mitre 10 | 281 Main North Road | CLARE | 5453 | 08 8842 2644 |
| CLEVE - Cleve Mitre 10 | 24 Fourth Street | CLEVE | 5640 | 08 8628 2477 |
| GAWLER - Gawler Mitre 10 | 7 Adelaide Road | GAWLER | 5118 | 08 8522 1944 |
| GLENELG - Banner Mitre 10 | 599 Anzac Highway | GLENELG | 5045 | 08 8294 8344 |
| HECTORVILLE - Glynde Mitre 10 | 8 Glynburn Road | HECTORVILLE | 5073 | 08 8337 2344 |
| JAMESTOWN - Worm's Mitre 10 | 4675 Wilkins Highway | JAMESTOWN | 5491 | 08 8664 1136 |
| KADINA - Kadina Mitre 10 | 81 Port Road | KADINA | 5554 | 08 8821 2445 |
| KIDMAN PARK - Findon Mitre 10 | 374 Grange Road | KIDMAN PARK | 5025 | 08 8356 7323 |
| KINGSCOTE - Linden Lea Mitre 10 | Grenfell Street | KINGSCOTE | 5223 | 08 8553 2354 |
| MALVERN - Barrow & Bench Mitre 10 | 321 Unley Road | MALVERN | 5061 | 08 8272 8566 |
| MCLAREN VALE - McLaren Vale Mitre 10 | 217 Main Road | MCLAREN VALE | 5171 | 08 8323 8071 |
| MILLICENT - Banner Mitre 10 | Kentish Place | MILLICENT | 5280 | 08 8733 2944 |
| MOUNT GAMBIER - Banner Mitre 10 | 2 Sturt Street | MOUNT GAMBIER | 5290 | 08 8725 2364 |
| NORMANVILLE - Normanville Mitre 10 | 2 Mary Street | NORMANVILLE | 5204 | 08 8558 3100 |
| NURIOOTPA - Barossa Mitre 10 | 14 Gawler Street | NURIOOTPA | 5355 | 08 8568 6005 |
| PORT AUGUSTA - Better Homes Supplies Mitre 10 | 8 - 22 Woodcock Street | PORT AUGUSTA | 5700 | 08 8642 3033 |
| PORT ELLIOT - Timco Mitre 10 | Cnr Brickyard & Port Elliot Rd | PORT ELLIOT | 5212 | 08 8554 2312 |
| PORT LINCOLN - Port Lincoln Mitre 10 | 15 - 19 Lebrun Street | PORT LINCOLN | 5606 | 08 8682 3077 |
| RENMARK - Wills & Co Mitre 10 | 237 Renmark Avenue | RENMARK | 5341 | 08 8586 6722 |
| ROBE - Robe Mitre 10 | 10 Main Road | ROBE | 5276 | 08 8768 2244 |
| ROXBY DOWNS - Roxby Traders Mitre 10 | Cnr Tutop and Arcoona Streets | ROXBY DOWNS | 5725 | 08 8671 0322 |
| STIRLING - Stirling Mitre 10 | 79 Mt. Barker Road | STIRLING | 5152 | 08 8339 1155 |
| STRATHALBYN - Strathalbyn Mitre 10 | 6 South Terrace | STRATHALBYN | 5255 | 08 8536 2065 |
| STREAKY BAY - Beck's Mitre 10 | 12 Bay Road | STREAKY BAY | 5680 | 08 8626 1002 |
| TUMBY BAY - Tumby Bay Mitre 10 | 20 Spencer Street | TUMBY BAY | 5605 | 08 8688 2011 |
| VIRGINIA - Virginia Mitre 10 | Old Pt Wakefield Road & Thomas St. | VIRGINIA | 5120 | 08 8380 9157 |
| WAIKERIE - Wills & Co Mitre 10 | 5 Crush Terrace | WAIKERIE | 5330 | 08 8541 4422 |
Tasmania
| | | | | |
| --- | --- | --- | --- | --- |
| CYGNET - Cygnet Mitre 10 | 15 Mary Street | CYGNET | 7112 | 03 6295 1962 |
| DELORAINE - Becks Mitre 10 | 31 Church Street | DELORAINE | 7304 | 03 6362 2966 |
| DEVONPORT - Becks Mitre 10 | 19-25 Don Road | DEVONPORT | 7310 | 03 6424 1481 |
| HUONVILLE - Clennett's Mitre 10 | 53-59 Main Road | HUONVILLE | 7109 | 03 6264 1255 |
| KINGSTON - Clennett's Mitre 10 | 10 Huntingfield Drive | KINGSTON | 7050 | 03 6229 7888 |
| LAUNCESTON - Becks Mitre 10 | Corner Lawrence & Boland Street | LAUNCESTON | 7250 | 03 6332 6201 |
| MOONAH - Clennett's Mitre 10 | 56 Sunderland Street | MOONAH | 7009 | 03 6273 2001 |
| MORNINGTON - Clennett's Mitre 10 | 9 Electra Place | MORNINGTON | 7018 | 03 6244 7740 |
| PORT SORELL - Becks Mitre 10 | 104-108 Aleaxandra Road | PORT SORELL | 7307 | 03 6428 6811 |
| SCOTTSDALE - Becks Mitre 10 | 8-10 Ellenor Street | SCOTTSDALE | 7260 | 03 6352 2965 |
| SMITHTON - Armour Mitre 10 | 2 Brittons Road | SMITHTON | 7330 | 03 6452 2174 |
| ULVERSTONE - Becks Mitre 10 | 48 Alexandra Road | ULVERSTONE | 7315 | 03 6425 1455 |
| WIVENHOE - Becks Mitre 10 Trade Centre | 46 Main Road | WIVENHOE | 7318 | 03 6431 1688 |
Victoria
| | | | | |
| --- | --- | --- | --- | --- |
| ARARAT - David O Jones Mitre 10 | 20-22 Campbell Street | ARARAT | 3377 | 03 5352 4022 |
| BAYSWATER - Bayswater Mitre 10 | 860 Mountain Highway | BAYSWATER | 3153 | 03 9729 1333 |
| BELMONT - Belmont Timber Trade Centre Mitre 10 | 154 -178 Barwon Heads Rd | BELMONT | 3216 | 03 5243 1844 |
| BENALLA - Benalla Mitre 10 | 45 Sydney Road | BENALLA | 3672 | 03 5762 9800 |
| BENDIGO - Golden City Mitre 10 | 129-131 Breen Street | BENDIGO (GOLDEN SQUARE) | 3550 | 03 5445 7676 |
| BENDIGO - Hume & Iser Mitre 10 | 35 - 37 Charleston Place | BENDIGO | 3550 | 03 5440 7100 |
| BRIGHTON - Peter's Mitre 10 | 343 New Street | BRIGHTON | 3186 | 03 9596 2888 |
| CAMPERDOWN - Camperdown Mitre 10 | 57 Scott St | CAMPERDOWN | 3260 | 03 5593 1488 |
| CAULFIELD - Peter's Mitre 10 | 95 Normanby Road | CAULFIELD | 3162 | 03 9509 9811 |
| CLIFTON HILL - Provans Mitre 10 | 457 Hoddle Street (Cnr Alexandra Pde) | CLIFTON HILL | 3068 | 03 9489 8255 |
| COBRAM - Cobram Mitre 10 | 80 Broadway Street | COBRAM | 3644 | 03 5872 2266 |
| COWES - Capeview Mitre 10 | 220 Settlement Road | COWES | 3922 | 03 5952 2288 |
| DAYLESFORD - Daylesford Mitre 10 | 4 - 6 Raglan Street | DAYLESFORD | 3460 | 03 5348 3854 |
| DIAMOND CREEK - Diamond Valley Mitre 10 | 95 Hurstbridge Road | DIAMOND CREEK | 3089 | 03 9438 8400 |
| DONCASTER EAST - Doncaster Mitre 10 | 7-13 Andersons Creek Road | DONCASTER EAST | 3109 | 03 9841 5400 |
| EMERALD - Emerald Coop Mitre 10 | 315-317 Main Road | EMERALD | 3782 | 03 5968 4222 |
| FOOTSCRAY - Tait Mitre 10 | 101-133 Geelong Road | FOOTSCRAY | 3011 | 03 9689 1444 |
| FRANKSTON - Womersley's Mitre 10 | 336 Cranbourne Road | FRANKSTON | 3199 | 03 9788 3000 |
| GEELONG SOUTH - Fagg's Mitre 10 | 1-9 Barwon Terrace | GEELONG SOUTH | 3220 | 03 5221 2899 |
| GLEN IRIS - Tait Mitre 10 | 15 Weir Street | GLEN IRIS | 3146 | 03 9822 3381 |
| HAMILTON - Permewans Hamilton Mitre 10 | 57-61 Cox Street | HAMILTON | 3300 | 03 5572 2922 |
| HEATHCOTE - Heathcote Mitre 10 | 34 Herriot St | HEATHCOTE | 3523 | 03 5433 2188 |
| HEIDELBERG - Danahers Mitre 10 | 464 Lower Heidelberg Road | HEIDELBERG | 3084 | 03 9457 2645 |
| HOPPERS CROSSING - Costa's Mitre 10 | Shop 2, 255 Old Geelong Road, | HOPPERS CROSSING | 3029 | 03 9749 6499 |
| HORSHAM - Horsham Mitre 10 | 73 - 75 McPherson Street | HORSHAM | 3400 | 03 5382 0974 |
| INGLEWOOD - Inglewood Mitre 10 | 30 - 36 Brooke Street | INGLEWOOD | 3517 | 03 5431 7300 |
| INVERLOCH - Capeview Mitre 10 | 10 Bass Highway | INVERLOCH | 3996 | 03 5674 2907 |
| KILMORE - Kilmore Mitre 10 | 115 Powlett Street | KILMORE | 3764 | 03 5782 1088 |
| KYABRAM - Minger's Mitre 10 | 6 Church Street | KYABRAM | 3620 | 03 5853 1300 |
| LEONGATHA - Capeview Mitre 10 | Lot 2 Cusack Road | LEONGATHA | 3953 | 03 5662 5666 |
| MARYBOROUGH - Crameri's Mitre 10 | 20 Tuaggra Street | MARYBOROUGH | 3465 | 03 5461 1688 |
| MOE - TM&H Mitre 10 | 56 George Street | MOE | 3825 | 03 5127 2155 |
| MONBULK - Murphy's Mitre 10 | Corner Main & Silvan Road | MONBULK | 3793 | 03 9756 6306 |
| MOORABBIN - Moorabbin Mitre 10 | 230 Wickham Road | MOORABBIN | 3189 | 03 9553 0155 |
| MT WAVERLEY - Tait Mitre 10 | 601 High Street Road | MT WAVERLEY | 3149 | 03 9802 9211 |
| NHILL - Nhill Mitre 10 | 11 Victoria Street | NHILL | 3418 | 03 5391 1138 |
| NIDDRIE - Johnson & Rielly Mitre 10 | 404-424 Keilor Road | NIDDRIE | 3042 | 03 9379 1001 |
| PORTLAND - Portland Mitre 10 | 142-144 Hurd Street | PORTLAND | 3305 | 03 5521 7736 |
| RICHMOND - Richmond Mitre 10 | 143 - 153 Palmer Street | RICHMOND | 3121 | 03 9426 1700 |
| RICHMOND NORTH - Martin's Mitre 10 | 38 Victoria Street | RICHMOND NORTH | 3121 | 03 9428 6647 |
| ROCHESTER - Rochester Mitre 10 | 57 - 59 Mackay Street | ROCHESTER | 3561 | 03 5484 1500 |
| SHEPPARTON - Hunters Mitre 10 | 20-28 Florence Street | SHEPPARTON | 3630 | 03 5821 5744 |
| SOMERVILLE - Tait Mitre 10 | 2 Speedwell St | SOMERVILLE | 3912 | 03 5977 5237 |
| SORRENTO - Sorrento Mitre 10 | 45-47 Kerferd Avenue | SORRENTO | 3943 | 03 5984 2247 |
| SOUTH MELBOURNE - Crameri's Mitre 10 | 268 Coventry Street | SOUTH MELBOURNE | 3205 | 03 9699 8655 |
| STAWELL - David O Jones Mitre 10 | 26 - 34 Playford Street | STAWELL | 3380 | 03 5358 1205 |
| TARWIN LOWER - Capeview Mitre 10 | 31-33 River Drive | TARWIN LOWER | 3956 | 03 5663 5445 |
| TATURA - Viberts Mitre 10 | 50 -54 Casey Street | TATURA | 3616 | 03 5824 1544 |
| TORQUAY - Fagg's Mitre 10 | 11 - 13 Baines Court | TORQUAY | 3228 | 03 5261 3855 |
| WALLINGTON - Fagg's Mitre 10 | 365 Grubb Road | WALLINGTON | 3222 | 03 5250 2855 |
| WARRNAMBOOL - Pontings Mitre 10 | 112 Kepler Street | WARRNAMBOOL | 3280 | 03 5561 8900 |
| WODONGA - Kelly's Mitre 10 | 88 Elgin Boulevard | WODONGA | 3689 | 02 6055 3333 |
| WONTHAGGI - Capeview Mitre 10 | Cape Paterson Road | WONTHAGGI | 3995 | 03 5672 3700 |
| YARRAM - Cooper's Mitre 10 | 184 Commercial Road | YARRAM | 3971 | 03 5182 5644 |
Western Australia
| | | | | |
| --- | --- | --- | --- | --- |
| ALBANY - M&B Mitre 10 Trade Centre | 68 Cockburn Road | ALBANY | 6330 | 08 9844 5200 |
| BINDOON - Bindoon Mitre 10 | 9 Binda Place | BINDOON | 6502 | 08 9576 1275 |
| BOULDER - Kalgoorlie Mitre 10 | 107 Federal Road | BOULDER | 6432 | 08 9021 5300 |
| BRIDGETOWN - Bridgetown Mitre 10 | 23 Steere Street | BRIDGETOWN | 6255 | 08 9761 1611 |
| BROOKTON - Brookton Mitre 10 | 93-95 Road Robinson Street | BROOKTON | 6306 | 08 9642 1151 |
| BROOME - Streeter & Male Mitre 10 | 4 Short Street | BROOME | 6725 | 08 9193 7487 |
| CARNARVON - Carnarvon Mitre 10 | 417 Robinson Street | CARNARVON | 6701 | 08 9941 1009 |
| DENMARK - Thornton's Mitre 10 | 3 Ocean Beach Road | DENMARK | 6333 | 08 9848 1202 |
| DERBY - Derby Mitre 10 | 200 Wodehouse Street | DERBY | 6728 | 08 9193 2008 |
| DONGARA - Dongara Mitre 10 | 3 Hunts Road | DONGARA | 6525 | 08 9927 2090 |
| DUNSBOROUGH - Dunsborough Mitre 10 | 94 Faure Lane | DUNSBOROUGH | 6281 | 08 9755 3184 |
| EXMOUTH - Exmouth Mitre 10 | 8 Griffiths Way | EXMOUTH | 6707 | 08 9949 1837 |
| GERALDTON - M&B Mitre 10 Trade Centre | 315 Place Road | GERALDTON | 6530 | 08 9960 5005 |
| HARVEY - Harvey Mitre 10 | 37 Uduc Road | HARVEY | 6220 | 08 9729 1402 |
| HYDEN - Waveline Mitre 10 | 1 Naughten Street | HYDEN | 6359 | 08 9880 5588 |
| KALAMUNDA - Walker's Mitre 10 | 5 Stirk Street | KALAMUNDA | 6076 | 08 9293 2511 |
| KULIN - Kulin Mitre 10 | 63 - 65 Johnston Street/ Lot 2 | KULIN | 6365 | 08 9880 1340 |
| KUNUNURRA - East Kimberley Mitre 10 | 7 Bloodwood Drive | KUNUNURRA | 6743 | 08 9168 1340 |
| MANJIMUP - Manjimup Mitre 10 | 31 Giblett Street | MANJIMUP | 6258 | 08 9771 1020 |
| MARGARET RIVER - Margaret River Mitre 10 | 22 Station Road | MARGARET RIVER | 6285 | 08 9757 2455 |
| MOUNT BARKER - Mt Barker Mitre 10 | 14 Lowood Road | MOUNT BARKER | 6324 | 08 9851 3323 |
| NORTHBRIDGE - Farinosi & Sons Mitre 10 | 274 James Street | NORTHBRIDGE | 6003 | 08 9328 7311 |
| PINJARRA - Tuckey's Mitre 10 | 19 George Street | PINJARRA | 6208 | 08 9531 1473 |
| TOM PRICE - Pilbara Mitre 10 | Stadium Road | TOM PRICE | 6751 | 08 9189 1023 |
| WAROONA - Waroona Mitre 10 | Cnr South West Highway & Thatcher Street | WAROONA | 6215 | 08 9733 1228 |
| WONGAN HILLS - Wongan Hills Mitre 10 | 47 Fenton Place . | WONGAN HILLS | 6603 | 08 9671 1778 |