Meet the Timber Framing Collective.
The new go-to body for marketing timber framing.
If you're in construction, you've probably noticed timber is in high demand right now.
With potential shortages on people's minds, the industry has stepped up to keep timber on-site, now and in the future. Timber frames have been part of Australian houses and construction workers' lives for generations. With consumers' demands changing, particularly when it comes to financial and environmental sustainability, timber in construction will need to adapt.
That's where the newly-formed Timber Framing Collective aims to help, giving the industry a voice and making sustainable timber the backbone of Australian homes.
Who are they?
The Timber Framing Collective was created to be a focal point for all things related to timber framing in Australia.
Financially, the collective is currently supported by Australian sawmills, timber importers, industry associations and peak bodies, as well as building product and treatment suppliers.
By speaking with a unified voice to the industry and stakeholders, their aim is to be stronger together – standing up for timber's benefits while leading the industry towards change for the better.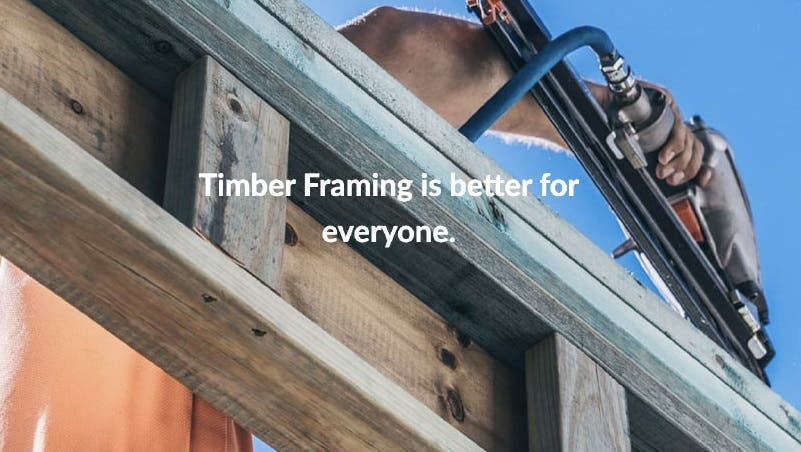 What's their mission?
Today, sustainability matters more than ever.
To keep timber on-site, the collective aims to market timber as the perfect choice of material. They believe it's up to people like them to help push the industry forward and focus the world on renewable, carbon-neutral, non-toxic, recyclable and natural resources.
How? By consolidating and promoting 'Timber Framing – The Ultimate Renewable TM ' as the leading building materials brand in Australia for residential construction going forward.
How are they getting started?
The collective is already taking steps to plant its flag, get its name out and push for timber to play a growing role in construction.
Recently, an open letter was published addressing the challenges thrown at the building and construction industries by the pandemic and the boom in residential building activity it has created. With timber in high demand, sawmills are working harder to optimise production and keep the majority of Australian-produced timber here in Australia.
By maintaining construction across the current state of shortages and advising government policy to support more tree planting, they aim to keep the industry running and frames going up.
Want to know more?
Visit the Timber Framing Collective online to read their open letter and find out more about their work.