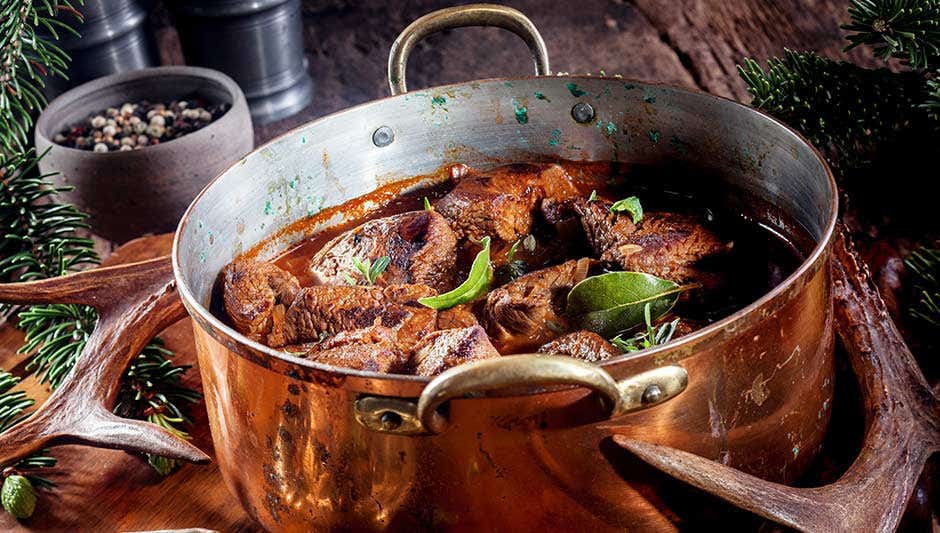 Shelley says:
Winter is on our doorstep. The best thing to do is just embrace it and get stuck into all the fabulous cooking opportunities (and food excuses!) that the cold weather brings us.
Whether you're cooking indoors or outdoors; flash-barbecuing; long, slow casserole cooking; quick cookies or a decadent pudding… the long winter days give us a chance to plan ahead and take some time out of our busy lives and try all those recipes that leave us full and warm our hearts.
Be brave and cook the family a lamb roast outside in the Weber – soak in the rush of crisp air on a chilly night and leave the oven inside for that chocolate and hazelnut self-saucing pudding recipe that you just haven't got around to making. The family might think you're mad but they'll be thanking you later after eating the meat that cuts like butter.
It's also the perfect time to experiment with slow cooking. Have you ever tried your hand at some hearty French cooking such as a Beef Bourguignon? Beef, bacon, mushrooms, garlic, slow cooked for hours, served with steaming mash and perfectly cooked beans, fresh crusty bread, a little wine on the side. How could Sunday lunch with the family be more perfect? It's actually not complicated to make and is sure to draw your family into the kitchen, trying to find out what's making that crazy-good smell and impatient to sit down and eat. Or how does an Irish lamb stew with herb dumplings sound? Melt-in-your-mouth lamb with vegetables and barley, with perfectly fluffy dumplings, to soak up that delicious sauce. It doesn't get better.
Think back to Nanna's lamb shank and vegetable soup. There forever seemed to be a giant cauldron of soup simmering away on her stove, soup that was brimming with all the goodness of leeks, lamb, pumpkin and barley. If we were lucky, this was followed by a batch of fresh scones, loaded with jam and cream, made only like Nanna knew how… her light fingers expertly working that scone dough. No one else's scones have come close and no one else wears an apron like Nanna either.
There's nothing more comforting than the smell and taste of a home-cooked meal. Family dinners will be like a giant food hug and winter will feel a whole lot warmer.

Ashleigh says:
That perfect oh so easy THICK pizza crust!
Winter isn't always about soups and hearty stews, although who doesn't love a warm hearty stew on a cold winter day. But I have a great way to get the family together again, and putting a delicious twist on your favourite weekend dinner treat.
Once you have made this thick, soft and chewy pizza crust you will never waste your money on takeaway pizza again. And cooking on your Weber with a stone pizza tray has never been easier, adding a smoky flavour that is unmatched by any oven. The stone also is your answer for the crispy crust everyone loves because it absorbs all the moisture whilst cooking.
"But I've never made pizza dough or used a stone pizza tray before?" – You may say….. Well, I'm about to change your life forever…..
My perfect thick pizza dough recipe is so easy, and the best part, whilst it's rising and doing all the hard work, you have time to put your feet up in front of the warm crackling fire and relax with your favourite glass of wine.
Please find my deliciously good recipe and very helpful hints below and enjoy your new favourite winter treat.
Ingredients
Serves x2 12' pizza bases
Preparation time – 135 min
Cooking time – 15 min
1 1/2 cups warm water (105-115 degrees)
1 tablespoon instant or active dry yeast (active will take longer to rise)
1 tablespoon sugar
1 teaspoon salt
1 tablespoon olive oil
3 1/2 cups all-purpose flour (plus more as needed)
Olive oil/non-stick cooking spray
Garlic salt
Cornmeal
Instructions
In a large mixing bowl or the bowl of your stand mixer (preferred), stir in water, sugar and yeast. Let sit 5-10 minutes or until the yeast is foamy and dissolved. Add olive oil, salt, and 1 1/2 cups flour and mix until combined with your hook attachment (or with a wooden spoon if not using a mixer). Then gradually mix in 2 more cups of flour until dough starts to pull away from the sides of the bowl. If your dough is too wet, add 1 more tablespoon of flour at a time (up to 1/4 cup) until dough barely sticks to your fingers. Once dough has pulled away from the bowl, knead in mixer on medium-low speed or by hand for 5 minutes.
Shape the dough into a ball and place back into your large mixing bowl that has been coated lightly with olive oil or non-stick cooking spray. Cover tightly with plastic wrap and allow to rise until doubled in size, 1-2 hours (wine time).
Estimate about 15 minutes before your dough is ready, preheat your pizza stone in your Weber on high for 20 minutes with the lid closed (this may vary depending on your Weber size, check weber stone manual for heating instructions).
TIP: Raise the pizza stone using a wire rack to allow for an even airflow and even cook.
Another TIP: Don't put pizza stone into a hot BBQ as this may cause it to crack.
After dough has doubled, remove from bowl and knead a couple times. Divide dough into two equal balls and cover with a towel for 15 minutes.
Carefully remove your pizza stone and GENEROUSLY grease the entire surface with olive oil or with non-stick cooking spray. Sprinkle with cornmeal.
After dough has been resting for 15 minutes, roll each dough ball out onto a lightly floured surface into a 12-inch round circle (or smaller for a thicker base). Transfer pizza dough to your pizza stone. Pinch edges to create a rimmed crust and prick with a fork to avoid any air pockets
TIP: You want the dough to be able to move on your tray to avoid it from sticking when cooking.
Lightly brush the top of the crust with olive oil and sprinkle with garlic salt. Now it's time to add your preferred pizza toppings.
Cook the pizza for around 15 minutes with the lid closed, or until the cheese on top has browned and the base is crispy.
Now Enjoy!