or 4 interest-free payments of $324.75
Learn more
More
Easily control your SILENO from the comfort of your home with the GARDENA Bluetooth App - learn more in this Gardena Sileno City 250 Robotic Mower Manual
Keep your lawn looking great while maintaining an oasis of peace and tranquillity with its pro-silent feature
Its AI-precise, makes this mower a better navigator tackling the narrowest spaces and tightest corners with reliable precision.
SILENO works under all weather conditions, rain or sunshine
CorridorCut function lets it mow the most difficult or narrow passages, even down to 60 cm between boundary wires
Its SpotCutting functionality is designed to deal with hard-to-reach areas such as under trampolines or garden furniture
Collect from one of over 400 Mitre 10 or True Value Hardware stores across Australia. Check stock availability online. The store will contact you when the order is ready.
The Gardena Sileno City 250 Robotic Mower is a revolutionary innovation that features a compact design and the latest in robotic technology. It can mow lawns sized up to 250m2 and always stays on course with a boundary wire which ensures that it stays within its designated mowing area. Programming can be set either using the GARDENA Bluetooth app (up to 10m away) or directly on the user interface on the machine itself. Either way, it has easy-to-follow instructions and during the simple installation process, a programming assistant guides you through the menu and self-calculates the mowing plan. The mowing times can also be freely programmed. It can operate in any weather condition, including heavy rain, and also works in tight spaces and on inclines of up to 35%.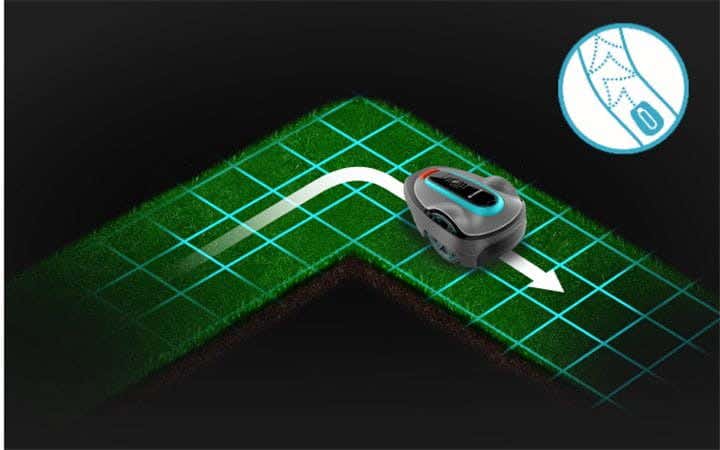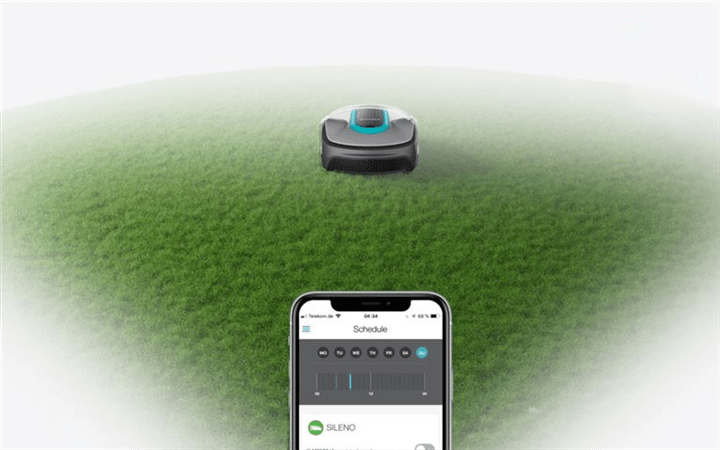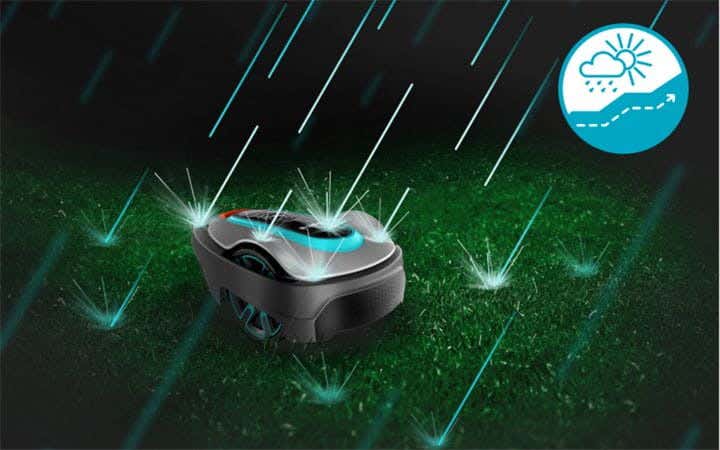 This robotic mower perfectly mows lawn areas up to 250 square metres with the three small pivoting razor blades finely clip grass and these fine cuttings act as mulch and natural fertiliser. Its 7kg weight makes it easy to handle, install, and program and runs on a Li-Ion battery and automatically returns to the charging station as required. The best part of this intelligent lawn mower is it automatically returns to its charging station when recharging is required. A lift sensor is designed to prevent injuries by stopping the blades immediately. This robotic lawn mower is an excellent option for anyone with noise restrictions as it operates at a maximum of 58 decibels. It efficiently cuts your lawn with three small pivoting razor blades, while the cuttings also act as mulch and natural fertiliser to help your garden grow. Powered by a Li-Ion battery, this mower is easy to use and operate and is programmed to automatically return to a charging station when recharging is required. Suitable for use in all weather conditions including heavy rain. 
The other outstanding features of  Gardena Sileno City 250 Robotic Mower include Frost Sensor. This suspends the schedule to protect your lawn from damage. The boundary wire tells the robotic lawnmower exactly where to mow, down to the exact centimetre, and doesn't need to be buried during installation. It also has a flexible cutting height function, which lets you adjust the lawn mower to suit your preferences. The SILENO City and Life models can handle inclines up to 35% whilst the SILENO Minimo can handle 25%. Installation is as easy as ABC and can be completed quickly. Simply clean your SILENO Robotic Lawnmower using your garden hose. And you are ready to go! See our installation films below for more information. 
Easily control your SILENO from the comfort of your home with the GARDENA Bluetooth App - learn more in this Gardena Sileno City 250 Robotic Mower Manual
Keep your lawn looking great while maintaining an oasis of peace and tranquillity with its pro-silent feature
Its AI-precise, makes this mower a better navigator tackling the narrowest spaces and tightest corners with reliable precision.
SILENO works under all weather conditions, rain or sunshine
CorridorCut function lets it mow the most difficult or narrow passages, even down to 60 cm between boundary wires
Its SpotCutting functionality is designed to deal with hard-to-reach areas such as under trampolines or garden furniture
Product Identifiers
IHG SKU

6384044



National SKU

781694



Product Code

967646814



Barcode

4078500046893


Product Dimensions
Weight (kg)

7.3



Height (mm)

230mm



Width (mm)

380mm



Depth (mm)

550


Battery
Battery Type

Li-Ion



Battery Runtime (mins)

65



Battery Voltage

18V


Warranty & Care
Warranty

2-Year Warranty*


Local Deliveries
Many Mitre 10 stores offer a local delivery service. Contact your local store about what options you have for local delivery.
Returns
This Policy is provided by the Mitre 10 store participating in this website that has been selected by the customer to buy the particular product/s that are subject to this Policy (Store). The Store is not required to provide a refund or replacement if the customer changes their mind. But the customer can choose a refund or exchange if a product has a major problem. View the Full Return Policy.
What you need to know before purchasing
Not all stores carry stock of this product, but will order it in for you.
Please allow up to 14 days for stock to arrive at your selected store.
Products are available while stocks last.
Contact your local store to check stock availability.
Images are for illustration purposes only.
Price is available to online purchases only.
Price when purchasing in-store may vary.
Many of our products come with a guarantee or warranty from the manufacturer. In addition, they come with guarantees that cannot be excluded under the Australian Consumer Law. You are entitled to a replacement or refund for a major failure and compensation for any further reasonably foreseeable loss or damage. You are entitled to have the goods repaired or replaced if the goods fail to be of acceptable quality and the failure does not amount to a major failure. Full details of your consumer rights may be found at www.consumerlaw.gov.au.