Make your own workbench in easy steps
The bench design we've chosen for you is both solid and functional and it's made from timber. It's 1800 x 720mm, but you can vary these specifications to fit the space available in your garage or shed. The benchtop features a centre channel (called a carpenter's well) to make cutting jobs easier and stop tools from falling off. It has a full-length bottom shelf for storing larger tools and materials while smaller tools can be hung on the pegboard covered ends.
Materials checklist
TIMBER
3 planks – 240 x 45 x 1800mm each coded 'A'

4 legs – 70 x 70 x 810mm each coded 'B'

4 cross members – 90 x 45 x 700mm, two coded 'C', two coded 'D'

1 cross member – 90 x 45 x 470mm coded 'E'

4 cross rails – 90 x 45 x 1500mm each coded 'F'

1 piece 9mm dowel 300mm long
SHEET MATERIAL
1 sheet 12mm particle board 1500 x 560mm

2 sheets pegboard cut to 530mm x 700mm
FASTENING MATERIAL
16 – 125 x 10mm coach bolts

Pkt. 25mm flat head nails

Pkt. 50 x 2.8mm flat head nails

Pkt. 75mm steel wood screws
Tools for the job
Measuring Tape or Rule

Pencil

Power Drill & Bits

Power Saw or Hand Saw

Claw Hammer

Carpenter's Square

Wood Chisels

Screwdriver

Adjustable Wrench

File
Step 1: Prepare materials
Making your bench will be easier if you prepare all components first and code mark them in pencil as listed and illustrated.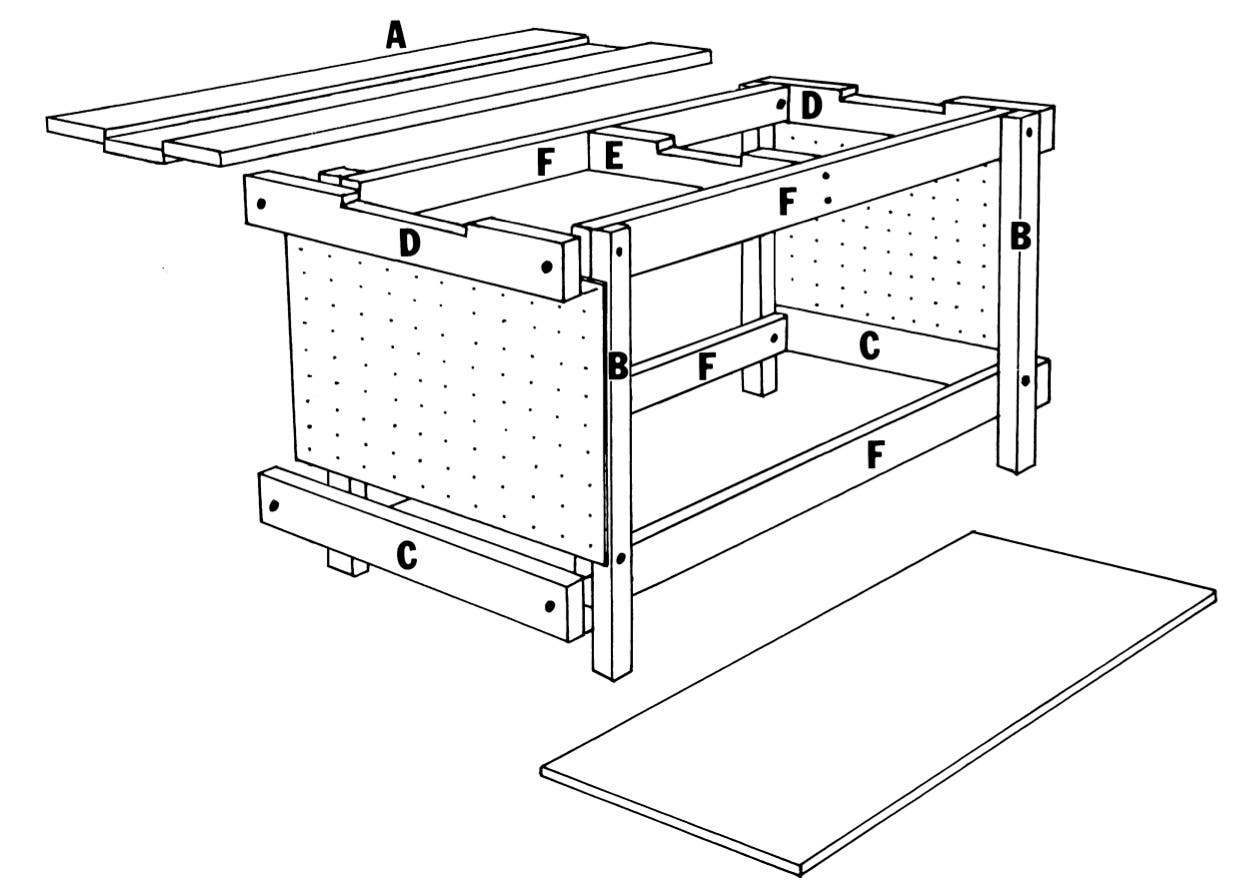 Step 2: Drill pieces 'C' & 'D'
These are the top and bottom crossmembers of the bench ends. Drill 10mm centred holes 35mm from each end of the crossmembers you've code marked 'C' and 'D' (Fig. 1).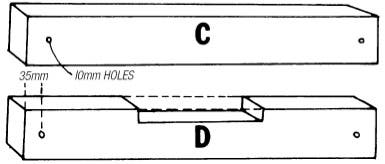 Step 3: Recess pieces 'D' & 'E'
Make a 240 x 25mm recess in the middle of the three top crossmembers you've code marked 'D' and 'E' (Fig. 2). Do this by marking off 230mm from each end on cross members 'D' and 115mm from each end on cross member 'E'. Then draw a line across the timber using your carpenter's square. Mark 25mm down each line and cut to that depth with your saw. Then use a sharp chisel to remove the excess and file the edges smooth. The middle top bench plank fits into these recesses, so make sure the fit is snug by placing all three pieces onto a bench plank marked 'A'.

Step 4: Assemble end frames
Do this on the floor by laying the legs, coded 'B', down first and the cross members over them (Fig. 3). The recessed 'D' member should be flush with the top and outside edges of the legs. Make sure the recess is facing up. On the legs, mark the holes you drilled earlier in the member. Measure up I00mm from the bottom of the legs. Then repeat the process for cross member 'C', making sure it's flush with the outside edge of the legs. Next, drill I0mm holes through the legs where marked and loosely bolt all pieces together.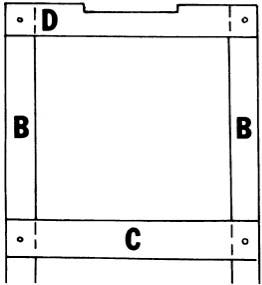 Step 5: Nail on the pegboard
Nail the pegboard to the legs of each frame using flat head nails (Fig. 4). Now you've got a handy place to store small hand tools.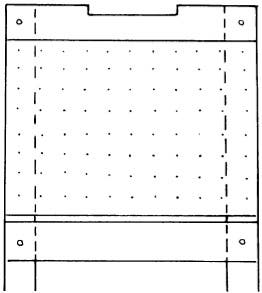 Step 6: Connect crossrails 'F'
Place the cross rails, code marked 'F' onto the inside of the legs, lining them up carefully with cross members 'D' and 'C'. Drill a 10mm diameter hole through the cross rail and leg and bolt to the end frame.
Step 7: Position floorsheet
Slide the floorsheet into position on the bottom rails. Make sure the frame is square and nail the floor to the rails using flathead nails. Then tighten rail bolts.
Step 8: Fit crosspiece 'E'
The centre bench support, coded 'E', fits between the top cross rails (Fig. 5). Make it a good fit by centring the piece carefully on top of the rails. Fix the support to each cross rail, using 2 wood screws per join.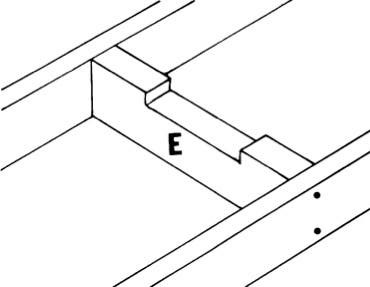 Step 9: Fitting the bench top
Place your first bench plank, coded 'A' into the three recessed top crossmembers, ensuring the overhang is equal at both ends. Then drill the correct size hole for screws through the plank and into the supports. Next, use a 9mm drill bit to countersink into these holes to a depth of 10mm so the screws will be below the surface of the bench top. Screw in the centre plank and repeat for the two outside planks (Fig. 6).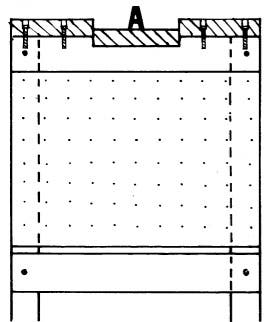 Step 10: Finishing off
Fill the countersunk holes in the benchtop with the 9mm dowel cut to length (Fig. 7). Sand off level and check that all coach bolts are tight. You should now think about whether you want to stain, oil or paint it to protect the timber. And there you have it. A solid, stable workbench that you build yourself – with a little help from Mitre 10.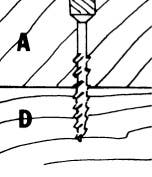 Add to your bench's usefulness
Now that you've finished building your bench, add a good quality vice to make every building and repair job easier. A vice holds longer pieces of timber or metal, either horizontally or vertically, and provides you with unlimited holding power. The type of vice you fit depends on what you will mainly use it for. If it's woodworking, fit a quick-action carpenter's vice to the front edge of the bench. But if you plan to do mostly metal work or mechanical repairs, an engineer's vice mounted on top should probably be your choice. Of course, there's nothing stopping you from adding both for even greater usefulness.