All year long, a properly raised vegetable garden box will provide fresh, home-grown vegetables.

To create a blooming vegetable garden box check out Mitre10's choice of lumber and gardening materials.

We recommend printing this page and referring to it during the procedure to ensure you do a good job.
Materials Needed
6 x treated pine sleepers, 200mm x 50mm x 2.4m
90mm x 90mm x 1.6m treated pine post
175mm galvanised coach bolts
Weed mat
Fertiliser/Garden soil
Organic animal manure mix
Vegetable seeds/plants
Pencil to mark
Building the box
Step 1:
Locate a flat area of dirt that receives plenty of sunlight. Dig to level the ground if it isn't flat.

The optimal size bed is 1200mm broad, 2400mm long, and 400mm (or two sleepers) high, with 200mm x 50mm x 2400mm treated pine sleepers. Check with your local Mitre10 to see what's available and what other solutions are available.
Step 2:
Wear safety goggles, a dust mask, gloves, and hearing protection if possible (pic. 2a). Using the 90 x 90mm treated pine posts, measure 400mm and cut four corner posts. Cut the sleepers for the short ends of the bed to size by measuring 1200mm (pic. 2b). Each corner post requires two bolts to secure the sleeper. Make a mark for your screw holes and drill them (pic. 2c). Use 175 millimetre galvanised coach bolts and washers to secure them to the corner posts. Bolts are hammered into the hole, a washer is added, and the nut is tightened (pic. 2d). Attach the long sleepers to the two end portions using the same method.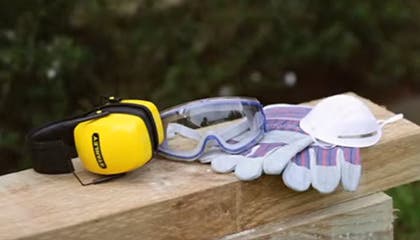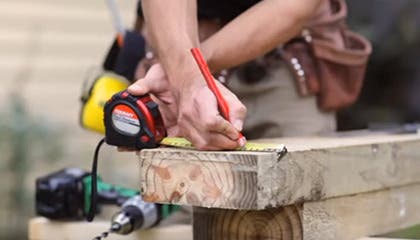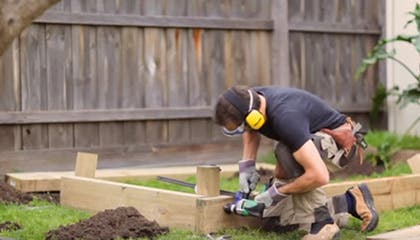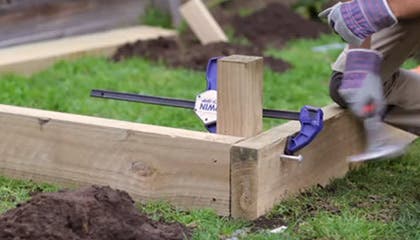 Step 3:
Attach the weed mat to the top sleeper on one of the long sides with a strong duty stapler or a hammer and carpet tacks (pic. 3a). Unroll the mat to the other sleeper side, making sure it's pressed up against the bottom corners and stapled in place (pic. 3b). Overlap the weed matting rolls by 100mm. To achieve complete weed coverage, repeat the process on the short sides.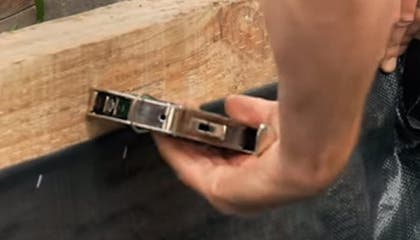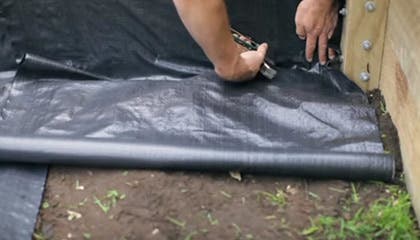 Proper planting
Pick up seeds or seedlings at your local Mitre10 store. To determine how deep to sow the seeds and how far apart they should be planted, refer to the instructions on the seed packets or plant containers. If you're unsure, ask our knowledgeable team for recommendations on what to plant and how to fertilize your crop.

Proper benefits
A properly raised garden bed helps preserve moisture, control weed growth, and extend the planting season. The specific soil mix ensures excellent soil quality, and the roots have an easier time growing because the soil isn't crushed by walking. Plants can be planted close together to increase yields and reduce water usage. Furthermore, because the soil level is greater, planting, weeding, and harvesting are less stressful on your back.