A splash of rum over some perfectly caramelized mushrooms is the secret to a major flavour upgrade in this recipe. Pair them with a wagyu steak seasoned generously with pepper and you've got yourself a weeknight winner.
And it's not all that hard when you get the right gear from your local Mighty Helpful Mitre 10.
Materials list
Weber Q2000
Weber Family Q Roasting Pack, containing 1 trivet and 2 convection trays
Grillman 3pc Tool Set, containing BBQ spatula, tongs and grill rake
Gas Bottle
Weber Ware Frying Pan
Ingredients list
2 wagyu sirloin steaks
2 tsp fine salt
3 tsp freshly cracked black pepper
50g unsalted butter
2 tbs extra virgin olive oil
2 shallots or 1 small onion, sliced
300g mixed mushrooms, sliced
2 garlic cloves, crushed
1 tbs thyme leaves
1 tsp smoked paprika
2 tbs Worcestershire sauce
2 tbs rum
Method
Step 1
Preheat the barbecue to medium-high heat and remove steaks from the fridge, combine salt and pepper and press all over the steaks, set aside.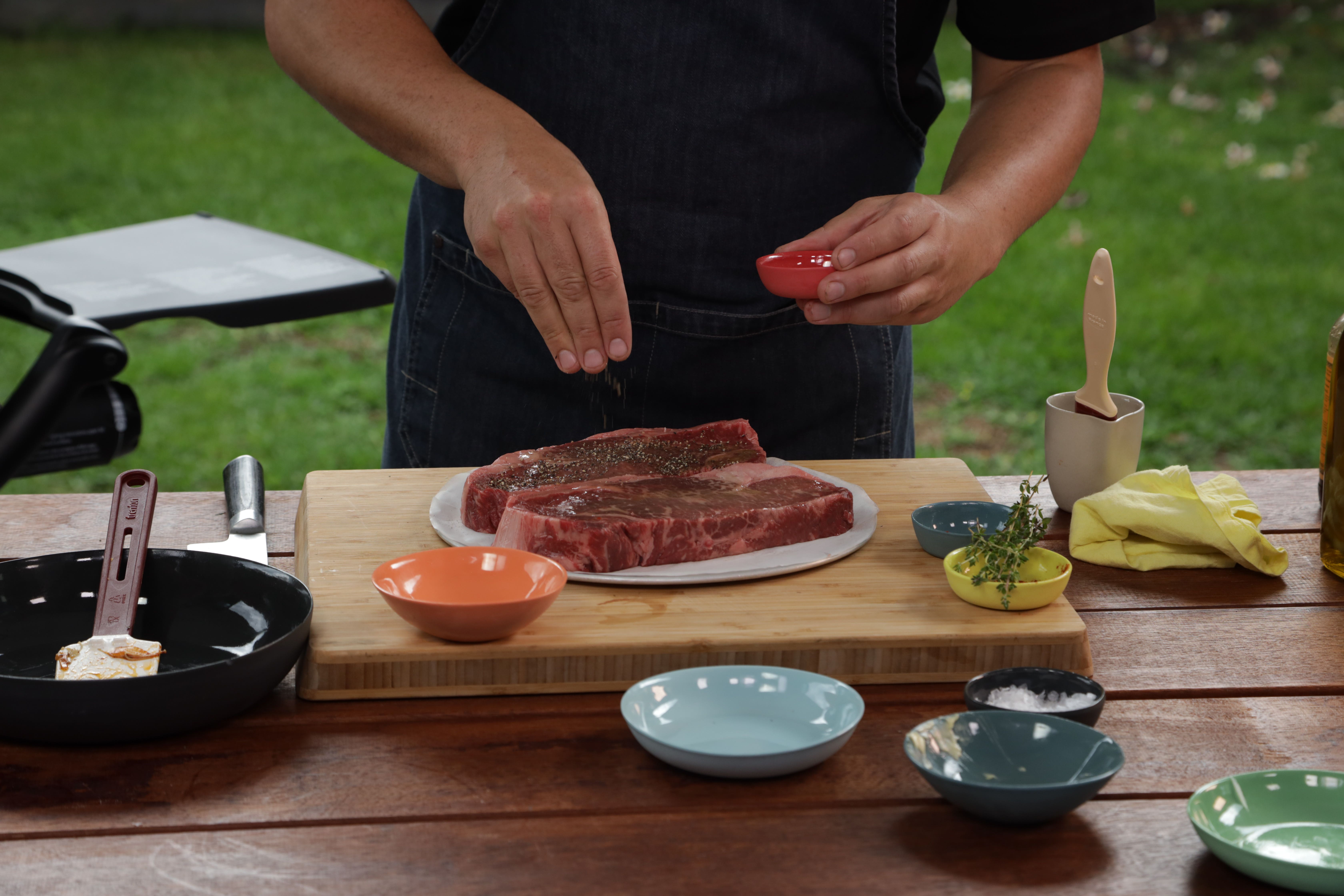 Step 2
Once the barbecue has preheated, place a Weber Ware Frying Pan over direct heat and preheat the pan with the lid closed. Add the butter, oil and shallots to the pan and cook for 2 minutes over direct high heat, or until softened.
Add the mushrooms and cook for 6–8 minutes until caramelised and all liquid has left the pan. Add the garlic, thyme and paprika and cook for 1–2 minutes then add the Worcestershire sauce and rum. Remove the mushrooms from the barbecue. Season to taste. Remember frying pan handle will be hot!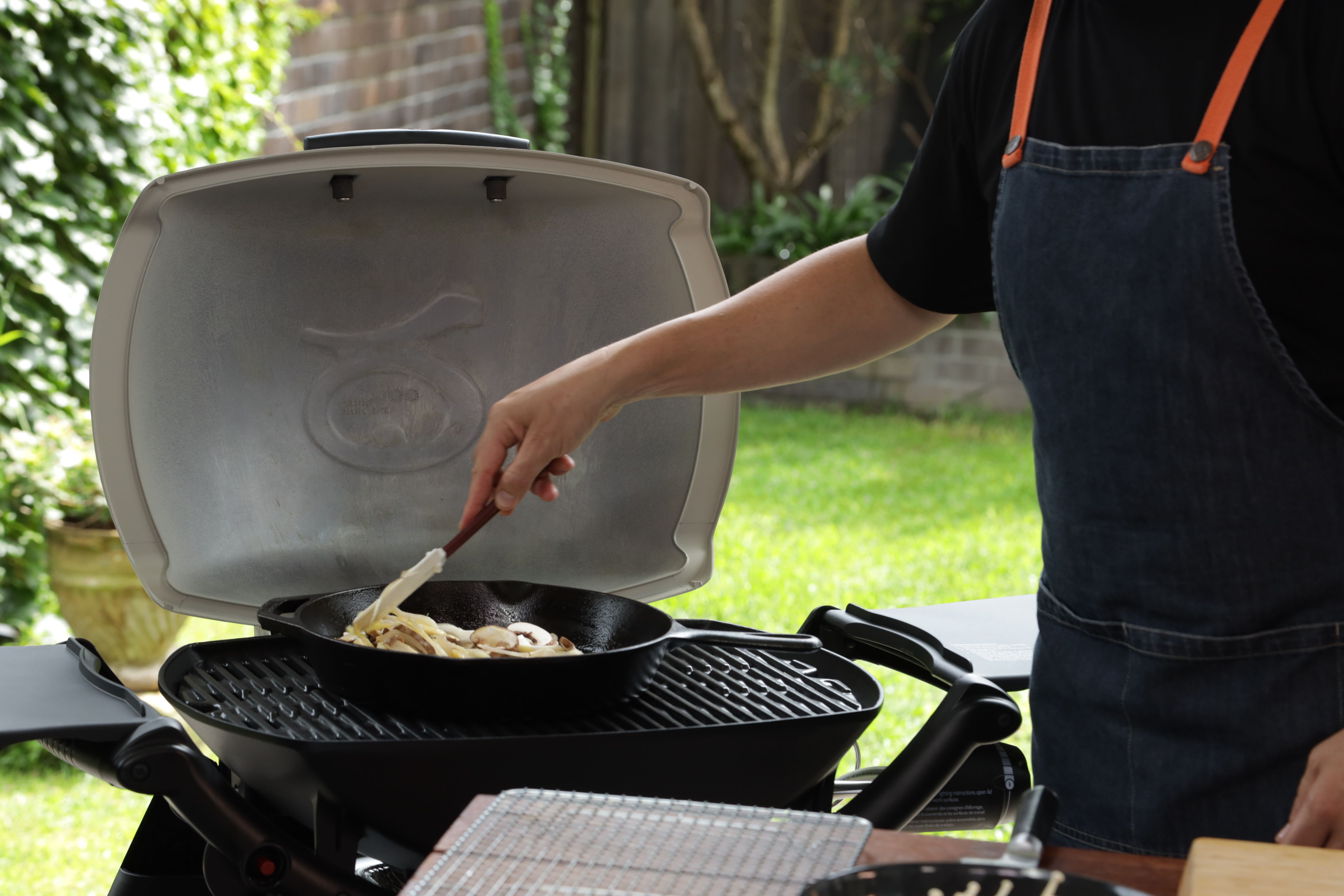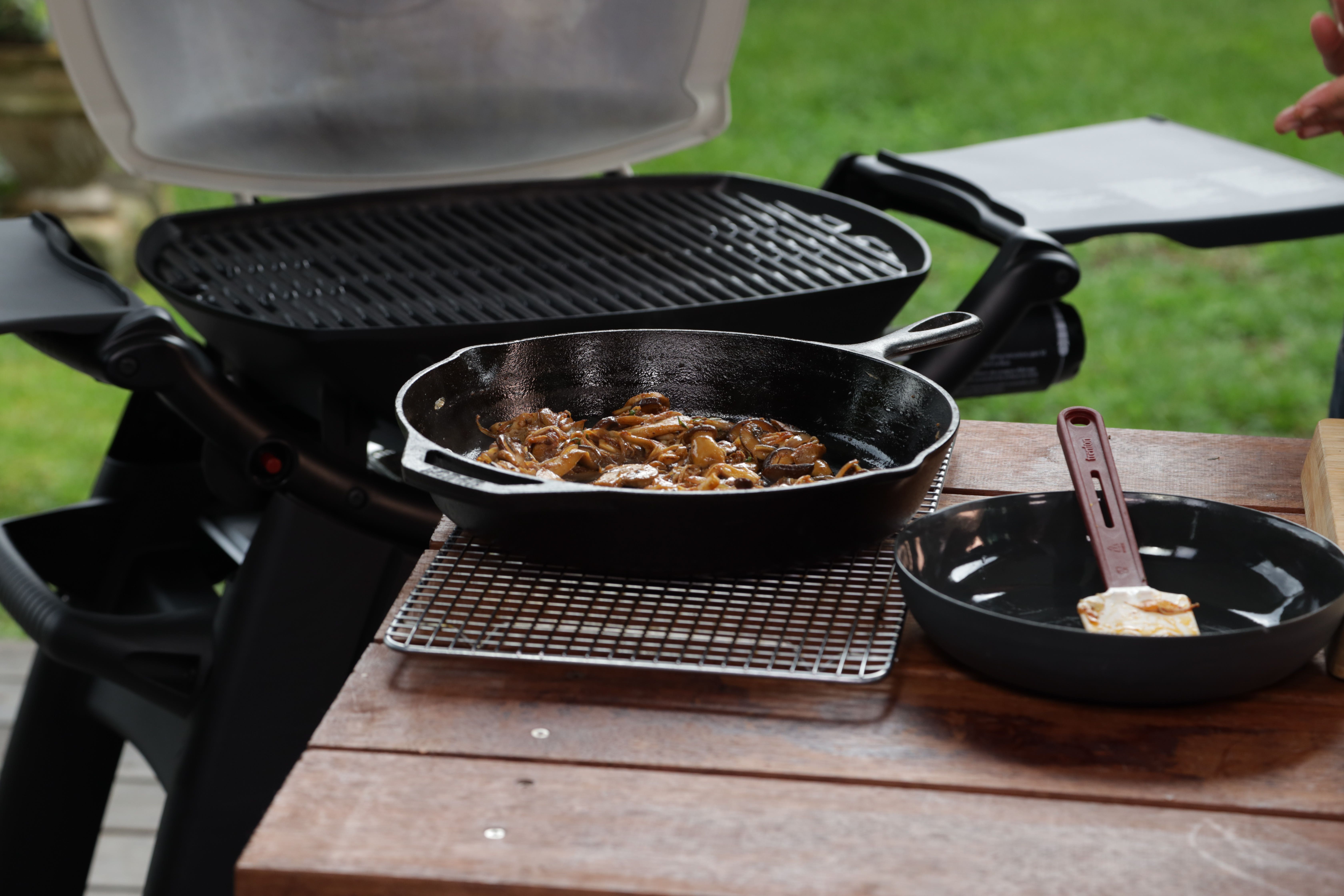 Step 3
Place the steaks over direct high heat and grill for 3 minutes per side for medium-rare, or until cooked to your liking. Remove the steaks from the barbecue and leave to rest on top of the mushrooms, this will reheat the mushrooms and also allow all resting juices to go into the mushrooms. Slice steaks and serve with mushrooms.
Place foil over stake and mushrooms to keep in heat whilst resting and preparing your chosen salad or side. Slice steaks and serve with mushrooms. Serves 4.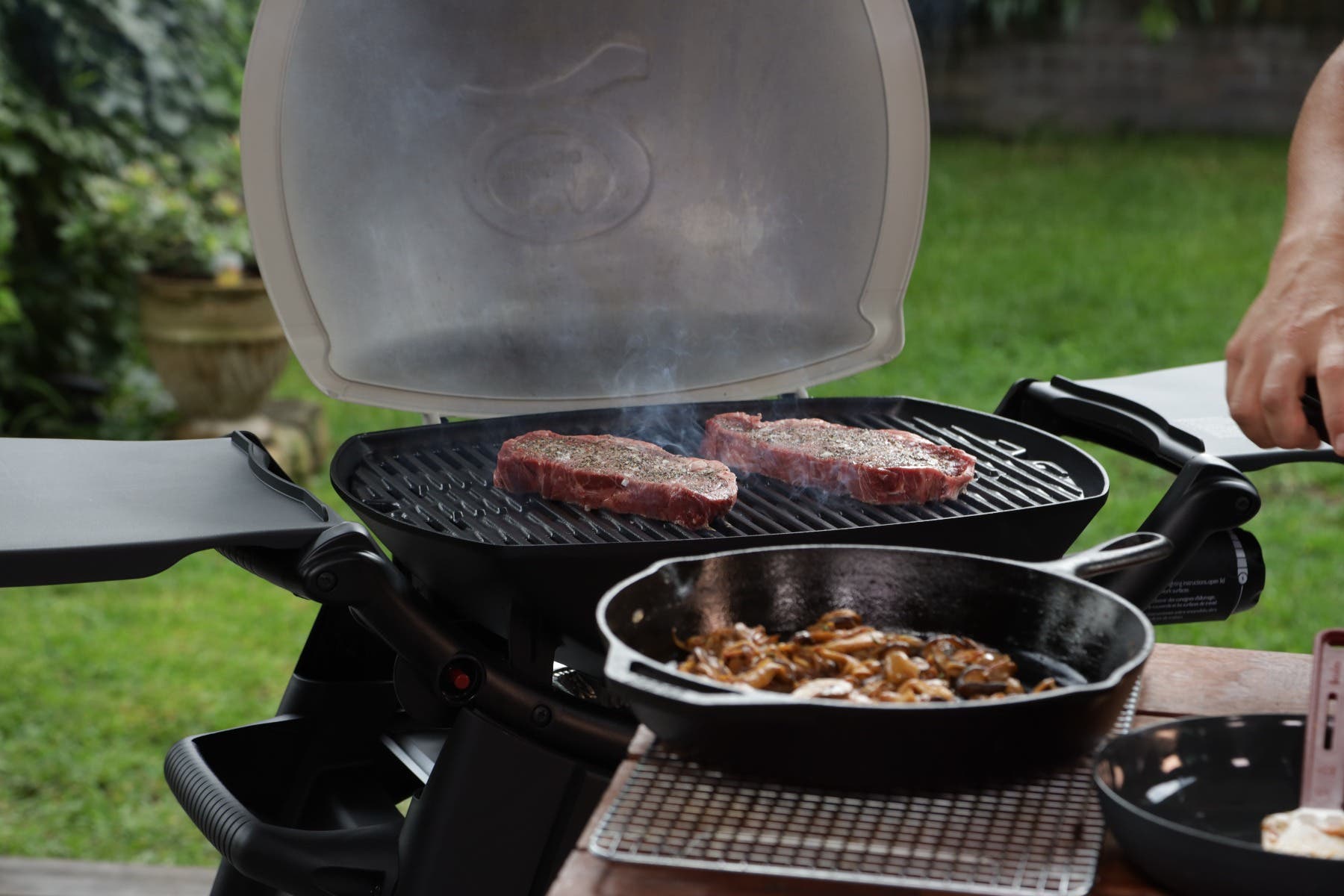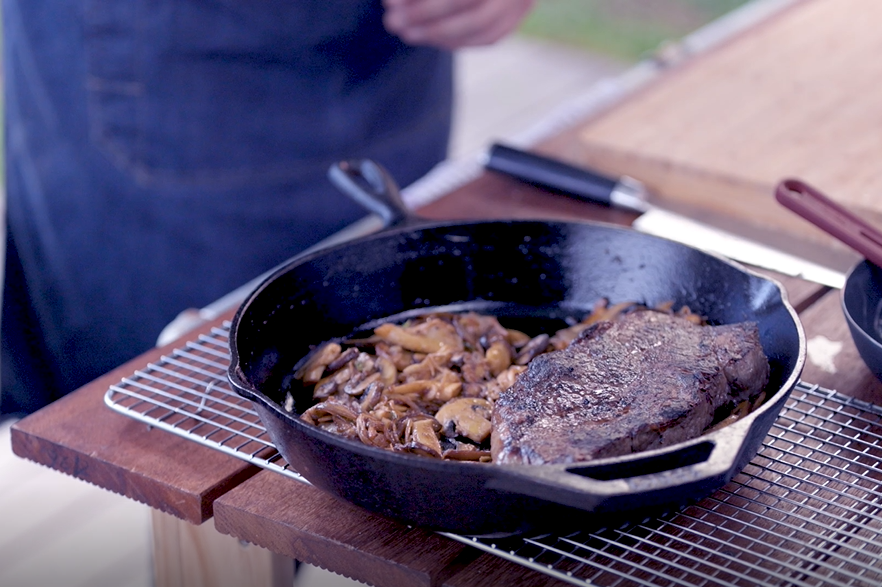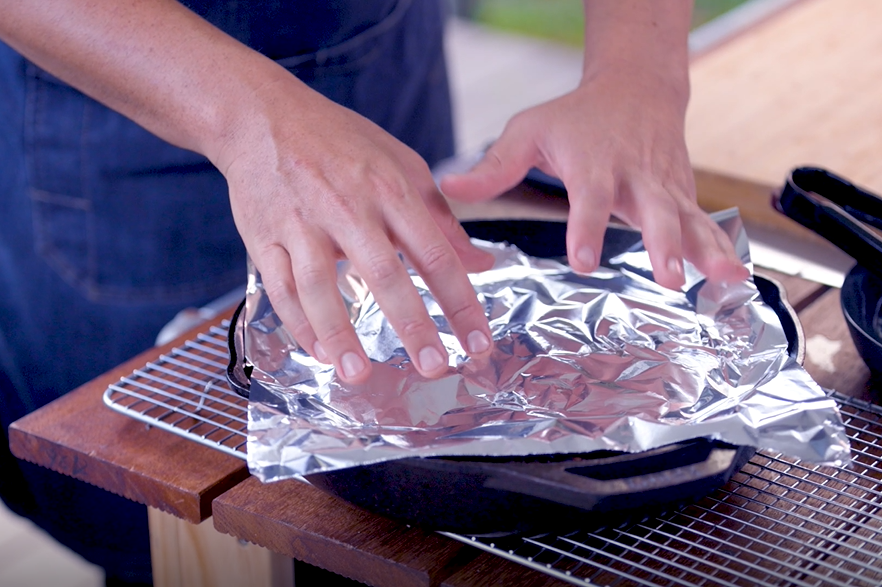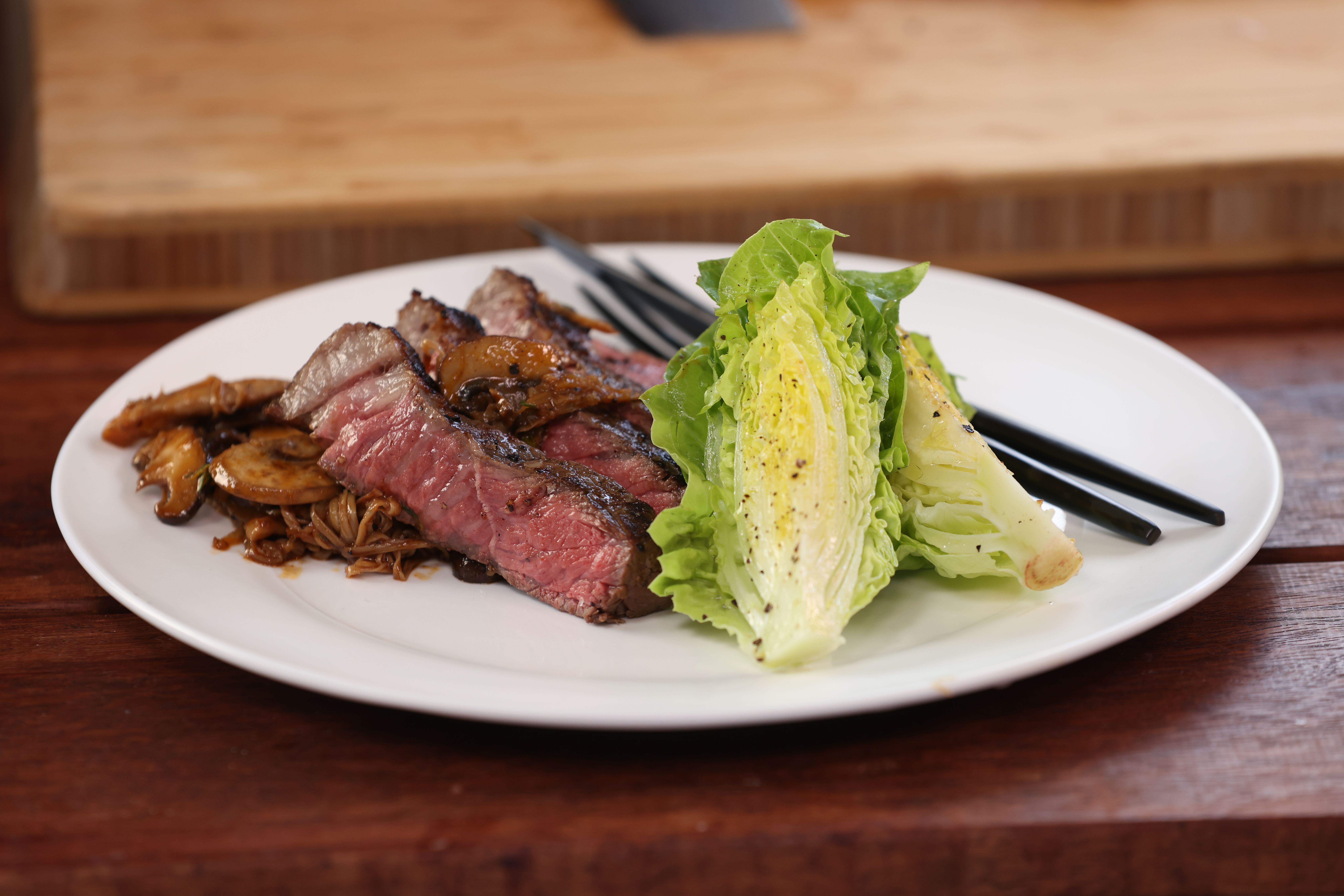 For more Mighty Helpful service and advice, speak to the team at your local Mighty Helpful Mitre 10