The front fence is usually the first thing people see when they visit your house so it is important that it makes a good impression. Upgrade your fence with a fresh coat of paint and marvel at how it livens your garden and home. Here's how to paint your fence using a brush and roller in four easy steps.
Make sure you have the right tools and materials
Step 1: Clean the fence
Start by removing weeds around the fence line. Then, tie back any plants that will get in the way when you are painting. Sweep the area thoroughly and place a drop sheet on the ground and under the fence (if possible). Clean the fence with a damp cloth or high pressure hose to remove any dirt or debris before starting work. Once the fence has dried, remove flaking paint with a scraper and lightly sand down the fence, using the sandpaper and block. You may need to use the sandpaper exclusively when sanding in between fence pickets, or in other harder to reach places.
Step 2: Prepare the area
Start by masking off any surrounding areas you don't want painted, this makes the process much easier and ensures a neat finish. Stir the Accent SolarMAX (Semi Gloss for pickets) with a stirrer in a circular uplifting motion then load your brush. Paint the sides of the pickets, the parts that are hard to reach, from the top to the bottom. Cut in 3 pickets at a time followed by rolling the face (Step 3) to avoid the paint drying and leaving brush marks on the face of the pickets.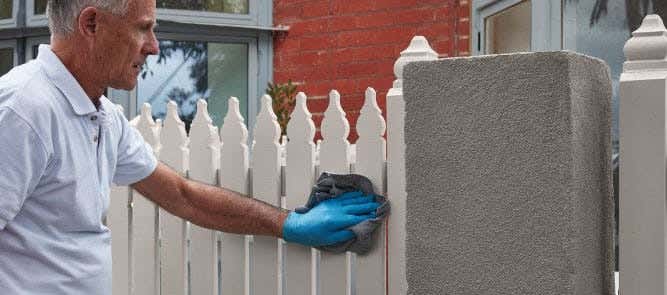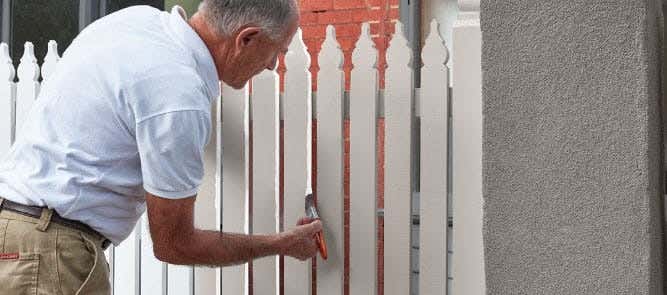 Step 3: Paint with the roller
Load the roller evenly with paint and begin to roll the pickets from top to bottom in sections. Before the paint has dried, it is time to lay off. This means gently rolling the roller (when it is ready for more paint, not loaded with paint) with no pressure (vertically) starting at the top.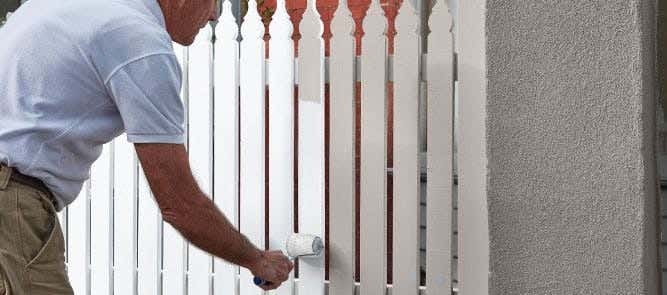 Step 4: Paint your posts
If you're also painting your posts, use Accent SolarMAX Low Sheen and repeat the process, cut in the hard to reach places with a brush and roll the surface from top to bottom, left to right with long vertical strokes that slightly overlap and finish by laying off.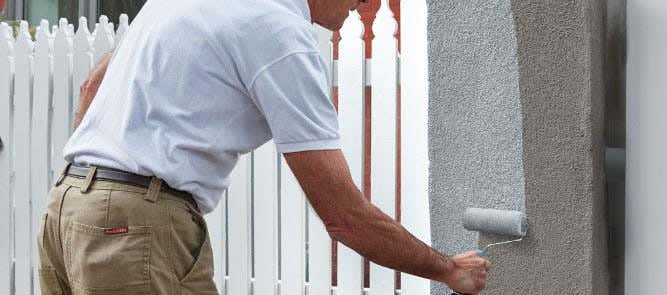 Repeat the painting process for the desired number of coats. Several coats will ensure your fence looks great for longer. If you are keen to enhance the exterior of your house, refreshing your fence is a project that will deliver outstanding results.
*Calculated for brushing and rolling 2 sides of a 7m W x 1.2m H picket fence with 2 coats of paint and 2 hours between coats. Filling, sanding and cleaning prep included.