Pergolas are a popular feature in many Australian backyards. One reason for their widespread appeal is that they provide shade and protection from the elements all year round. Pergolas are an ideal entertainment space and the perfect spot for your outdoor setting. A fresh coat of paint can help you to keep your pergola looking great, so you can enjoy at home entertaining whenever the mood strikes or simply soak up some outdoor ambience on your own. And with the Accent SolarMAX® range, you can be confident of an outstanding finish that is sure to last for years to come. We think you'll love this home improvement project! Take a look at our four simple steps below to get started.
Ensure you have the correct equipment
You will need:
1. Tie Back Plants
Remove, cover or tie back any plants that are growing up or around your pergola. Paint will damage and disrupt growth, maybe even kill the plants over time, so it's important to protect them. Soft wire tie has a soft rubber coating that means it will not cut or harm your plants and will secure most heavy shrubs and plants.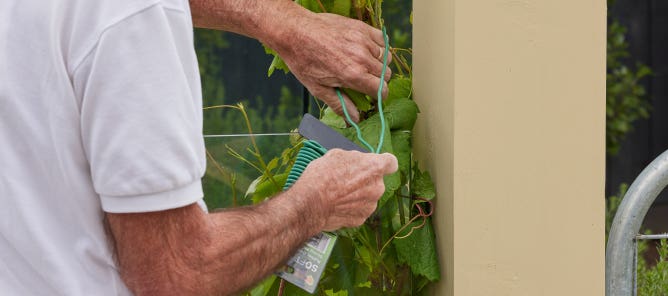 2. Clean
Give your pergola a good clean with Accent Sugar Soap to get rid of all the dirt and grime that may have built up over time. Then rinse with a hose or pressure washer to remove the residue from the soap. It's a good idea to wash every area of the frame on a regular basis to reduce damage from the elements.
3. Sand
Scrape off any loose paint and lightly sand the surface using 180-grit sandpaper and a hand sander or block. Then brush or rinse off all the sanding dust and let it dry before painting.



4. Paint
Using Accent SolarMAX Semi Gloss and a medium size paint brush or mini roller, start cutting in along the left edge. Then work along the full length of the timber from left to right with long horizontal strokes that slightly overlap. Finish by laying off. Work methodically on one beam at a time and finish with the posts.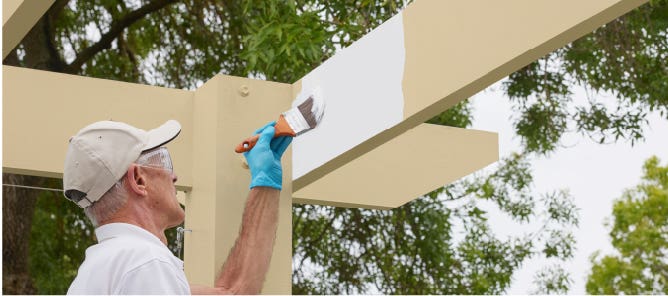 Whether you use your backyard for entertaining or just to relax, you'll be delighted with your refreshed pergola and the improvement it makes to the overall look and feel of your outdoor space. This is one DIY task that'll add plenty of value and appeal to your home. Make an impression by updating your pergola with Accent.
Pergola: Accent SolarMAX Semi Gloss in White Wave *Calculated for a pergola 6.3m by 4m previously painted, excludes dry time between coats. Cleaning and prep included. Timings quoted at 25°C and 50% humidity. ®Accent is a registered trade mark of Mitre 10 Australia Pty Ltd.