When people think of home improvements, the laundry is often overlooked. But with a fresh coat of paint, it's easy to create a sparkling new space that will inspire you to tackle your daily chores. Transform your laundry from dull to dreamy by refreshing your walls with crisp, clean colours using our handy step by step guide below. A simple renovation project like painting your laundry is the perfect way to kick off a colour refresh in your home. Make your next DIY project a breeze by stocking up on all the painting essentials you need for a professional looking result.
Ensure You Have The Correct Equipment
You will need:
Bucket & sponge
Accent Sugar Soap
Drop sheets
Accent All Purpose Filler
Paintable caulk & caulking gun
Sandpaper & block
Masking tape
Roller & tray
Extension pole
Paintbrush & stirrer
Accent Kitchen & Bathroom Low Sheen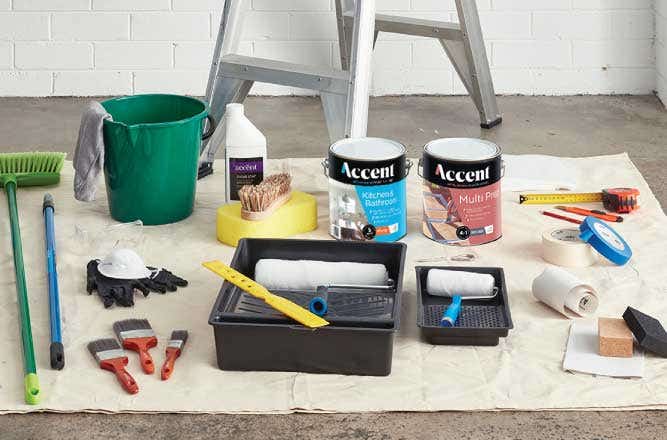 1. Prep
Get started on your DIY home project by preparing your walls. Taking care during this important step will ensure you get a great finish. Lay down the drop sheets.
Remove any flaking paint. Clean walls with Accent Sugar Soap to remove dust and grease. Fill holes or cracks with Accent All Purpose Filler, allow to dry then sand back and dust off. Fill any gaps between the skirting boards and walls with paintable caulk and allow to dry.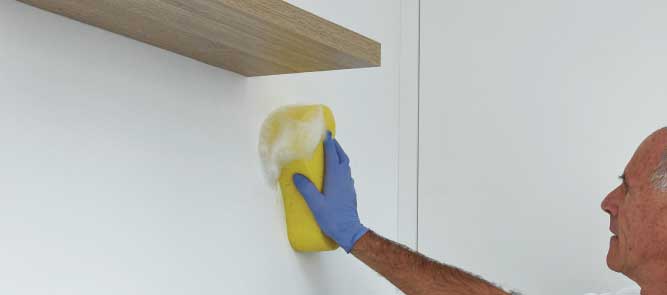 2. Mask
Use the masking tape to mask off the ceiling, cupboards and splashbacks. Cover the taps, sink, benchtop and cupboards to avoid getting drips or spatter on them.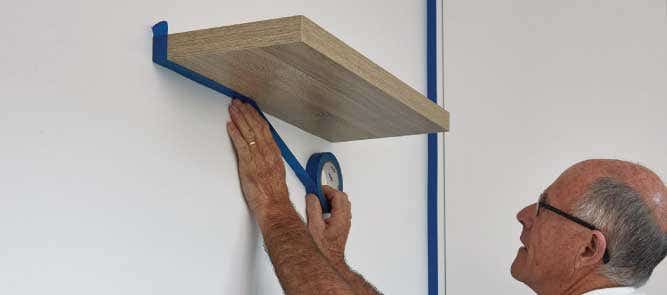 3. Cut in
Now that your walls are prepared, and you've masked off cupboards and covered your hardware and benchtops it's time to cut in.
Cutting in means that you use a paintbrush for spots that you can't reach with a paint roller. Firstly, remember to mix the paint with a stirrer in a circular lifting motion before you begin. Cut in with a brush around edges and corners where the roller can't reach. Work in sections and retain a wet edge so the rolled paint blends in with the brushed edges.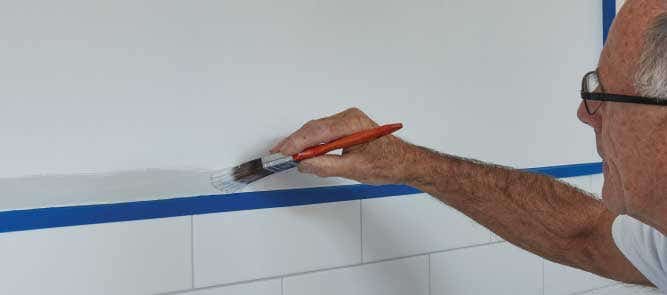 4. Paint
Load roller with an even amount of paint. Start at the edge and roll in an overlapping 'W' across the wall to ensure even distribution. Once the section is covered and the paint is still wet, lay off with the unloaded roller. Move onto the next section and repeat step 3 and 4 until complete.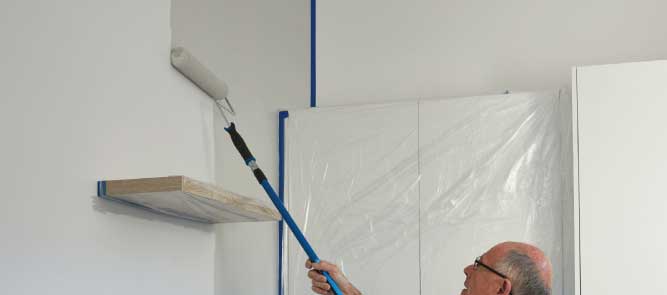 And that's it! Make everyday tasks a little less mundane in your stylish new laundry. As this simple DIY home project proves, a fresh lick of paint can quickly transform your laundry space. Make an impression by revitalising your walls with Accent.
Image walls: Accent Grey Scale.
*Calculated for a laundry 3x3m, 2 coats and 2 hours between coats. Filling, sanding and cleaning prep included.